High-tech zone attracts global leaders in industry, finance
Known for superior infrastructure and service, area brings in more projects, companies in 2017
Projects representing a total investment of more than 100 million yuan ($14.7 million) will be introduced to the Xi'an Hi-tech Industries Development Zone, according to agreements signed at the 2017 Silk Road International Exposition and the 21st Investment and Trade Forum for Cooperation between East and West China, which was held from June 3 to 7.
As the largest high-tech industry cluster in western China, the XHTZ is best known for its infrastructure and service.
The newly signed projects covered a wide range of sectors, such as semiconductors, new energy, new materials, software, biomedicine, advanced manufacturing, finance and e-commerce. The investors included both Chinese State-owned and privately owned companies, as well as overseas companies.
As a financing and investment arm of Fortune Global 500 enterprise China State Construction Engineering specially for the Belt and Road Initiative, China State Construction Silk Road Investment signed a contract with the high-tech zone to build facilities for startups, including office buildings and urban infrastructure.
High-tech zone attracts global leaders in industry, finance
CITIC Construction, a subsidiary of domestic conglomerate CITIC Group, will also take part in the zone's improvement through planning and construction.
Many industry leaders will open new offices in the zone.
Shenzhen-based Neptunus Group, with a well-established industrial chain in the medicine and healthcare business and strong innovation capacity, will invest 500 million yuan in a medical equipment service platform, providing pull-process traceable logistics services to hospitals to increase the distribution efficiency of medicines and equipment, reducing hospitals' operational costs.
Suning Estate, the real estate subsidiary of retail chain Suning Holdings, will invest more than 6 billion yuan in a complex of headquarters and commercial facilities in the XHTZ.
Altran Group from France will set up a research and development center in the zone for its semiconductor business. The company is an international solutions provider in the aerospace, auto manufacturing, energy, railway, finance, healthcare and telecommunication sectors. Its revenue reached 2.12 billion euros ($2.39 billion) last year.
Mapletree Investments, a subsidiary of Temasek Holdings from Singapore, will build a modern logistics industry park in the XHTZ with total planned investment of $100 million. The project will include an e-commerce operation center, an auto parts distribution center, a data center and management of third-party logistics platforms.
As one of the world's top computer power supply manufacturers, Delta Group's Hong Kong branch will invest $8 million to build a software development center.
One of the world's top four accounting firms, Deloitte & Touche, will establish its Xi'an office in the zone.
Many investment and financing institutions have also signed agreements to open offices in the XHTZ, making the local financing environment more dynamic.
Hitachi Capital Leasing (China) is the first Japanese leasing company to be introduced in the zone, and will establish a joint-venture leasing company with local Xi'an Gaoke Group Corp.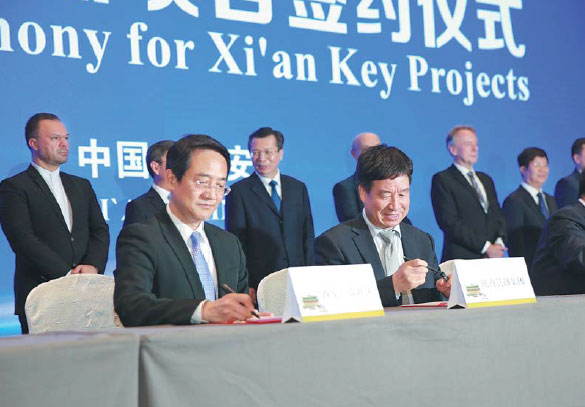 Yang Renhua (left), director of the Xi'an Hi-tech Industries Development Zone's administration, signs contracts with companies at the 2017 Silk Road International Exposition. Photos Provided To China Daily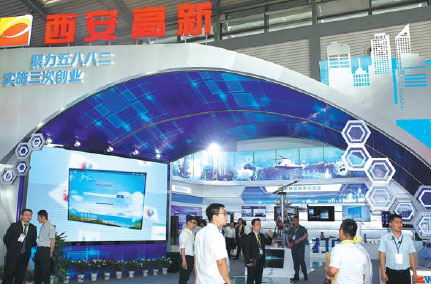 The booth of the Xi'an Hi-tech Industries Development Zone attracts visitors at the 2017 Silk Road International Exposition.
zhangzhao@chinadaily.com.cn