Zengcheng, a new investment hotspot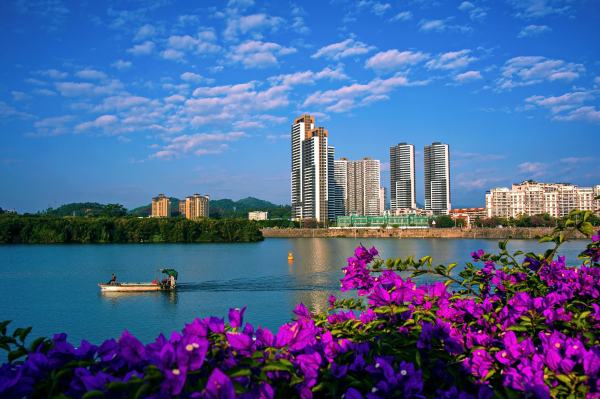 The picturesque view of Zengcheng, in the eastern part of Guangdong province. WU GUOMING / FOR CHINA DAILY
A recent investment of 61 billion yuan ($9.64 billion) from Foxconn Technology Group, the world's largest electronics contractor, has cast the spotlight on Zengcheng district of Guangzhou.
Located in the eastern part of the capital of Guangdong province, Zengcheng is much closer to the neighboring city of Dongguan than the business center of Guangzhou, but it is becoming a new investment hotspot.
Official figures show that a total of 94 projects introduced by the local government were signed in 2017, with total contractual funding of more than 63.4 billion yuan.
The annual earnings or output of 29 of the projects are forecast to reach at least 1 billion yuan each.
"Compared with 2016, our projects made remarkable quality improvements, which is critically important for the continued healthy development of the district," said Zhao Guosheng, executive deputy chief of Zengcheng. He said that the district government has been in talks with at least 143 high-quality projects, which are expected to pour additional funds of 150 billion yuan into the district in the coming years, further boosting the local economy. Two key clusters
According to Zhao, two powerful industrial clusters — expected to generate output of over 100 billion yuan each — have taken shape in Zengcheng, one focused on new generation of information technology and the other on automotive and auto parts manufacturing.
Foxconn's vast investment strategy called SIO new-generation panel display industry was agreed at the end of 2016 and construction launched last March. The plan involves building the world's largest 8k-resolution panel factory and ultimately turning Guangdong into a world-leading manufacturing and research center for the industry.
When it is put into operation in the second half of 2019, the factory will be able to produce 92 billion yuan in industrial output annually, said Su Yanhua, director of bureau of commerce of Zengcheng district.
"More significantly, Foxconn's project will attract its suppliers from across the globe, including many top 500 transnational companies, to settle in Zengcheng," Su noted.
To attract these heavyweight companies, Su's department has set up a database to record the key information of more than 170 such suppliers, including their main business, core technologies, current investment in China and their business relations with Foxconn in China.
After conducting initial assessments, the department carefully selected about 40 companies from Foxconn's supply chain, including Air Products, Corning, Toray and Daifuku, and offered them incentive policies and tailor-made government services, said Su.
As a result, Corning decided to invest about 2 billion yuan to build a new plant for display devices in Zengcheng at the end of last year.