Government support makes for efficient business environment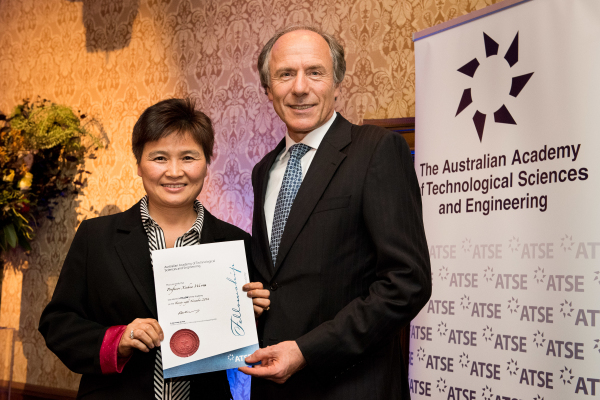 Wu Xinhua (left), a world-leading expert in titanium, is selected as an academician of the Australian Academy of Technology and Engineering. [Provided to China Daily]
Zhu Xianwen set up his 3-D printing company in Zengcheng district of Guangzhou late last year.
Zhu said he picked the location carefully, visiting many other places in Guangdong province before making his decision.
"The economy is developing rapidly in Zengcheng, and the district government is very efficient and helpful. They offer many more services, and at higher standards, than we expected," Zhu, founder and president of Guangzhou Huatai 3D Material Manufacturing Co, told reporters.
He set up the company with Wu Xinhua, an academician of the Australian Academy of Technology and Engineering and a world-leading expert in titanium, titanium alloys and their manufacturing processes. The business specializes in making metal bones and joints by using the fine art of 3-D printing technologies.
As it is the district's first project to be founded by an academician, the local government dispatched a team to help the company to manage administrative processes such as renting offices, registration, paying tax, authenticating medical equipment and even managing investors, Zhu said.
As a result, Zhu and his team can focus on developing new products and establishing cooperation with the local hospitals, to continue to carry out experimental operations.
"With the strong support of the government and our advanced technologies, we will soon introduce metal 3-D printer for medical purposes to the market," Zhu told China Daily, adding that the location is definitely a "smart choice". Chen Chen, a director of the InternationalCreat Center, one of the industrial parks in the State-level Zengcheng Economic and Technological Development Zone, said the district is "undervalued".
"It's an ideal place for companies to set up their South China headquarters because of its convenient transportation, solid supply chain, resourceful talent pool, skillful workers and wonderful living environment," Chen said. A new metro line was put into operation at the end of last year, connecting Zengcheng with downtown Guangzhou. Several other routes are under construction.
The district is also building a transportation hub for east Guangzhou to link with surrounding cities and provinces via several highways and high-speed trains, according to the district's development blueprint. Meanwhile, Zengcheng is vying to host the city's second international airport.
The International Creat Center, on which construction started in May 2016, will provide a floor area of 100,000 square meters in its first phase by October this year. Several companies, including the domestically listed Dian Diagnostics and Hong Kong-listed Beijing Enterprises Water Group Ltd, have agreed to set up their South China headquarters in the industrial park.
Terry Guo, founder and chairman of Foxconn, the world's largest contract electronics manufacturer, said the spacious land area that Zengcheng offers is one of the most important elements driving his decision to invest 61 billion yuan ($9.66 billion) in the district.
In comparison with nearby Shenzhen and some other districts in Guangzhou that face land shortage problems, Zengcheng covers about 1,616 square kilometers, which is about one-fifth of Guangzhou's total land area.
"District government departments are improving efficiency, streamlining administrative procedures and launching e-government systems to further improve the business environment," said Zhao Guosheng, executive deputy chief of Zengcheng.