Ancient Chengdu on track to be a global metropolis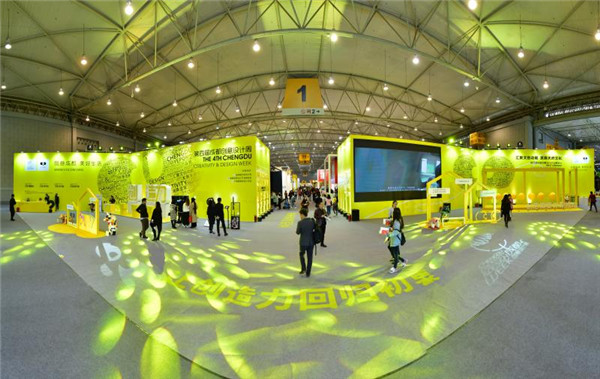 More than 20,000 innovative products from domestic and foreign companies and institutions are exhibited at the Chengdu Creativity and Design Week in November. PHOTOS PROVIDED TO CHINA DAILY
Chengdu, with history of more than 2,300 years, has set itself the target of becoming an international city of culture, tourism and sports events, as well as an international metropolis known for its food, music and event hosting.
The key to realising this goal is to commercialise the city's bountiful cultural and historical resources, local officials said at a conference in the city in December.
Chengdu's spirit of innovation goes back almost as far as the city's history itself.
During the Warring States Period (475-221 BC), Li Bing, the local governor, ordered to build the Dujiangyan Irrigation System.
The system enabled Chengdu's people to manage the irrigation of their land and helped the region develop steadily. It eventually became known as Tianfu, or the land of plenty.
In recent years, Chengdu has drawn heavily on its cultural heritage as a promotional tool. For example, cultural blocks and towns highlighting the characteristics of ancient Chengdu have been designed to attract tourists from around the world.
The city now plans to push on with projects such as Tianfu Jincheng, a themed town; Tianfu Museum of Nature; Tianfu Culture International Centre and Shaocheng International Cultural and Creative Silicon Valley.
Tianfu Jincheng aims to recover the ancient glamour of the city's cultural urban blocks and old towns, such as Chunxi Road and Kuanzhai Xiangzi Historical District.
Two music industry parks in the Shaocheng silicon valley opened in December. Chengdu is well placed to build an international metropolis for music, local officials said.
The city ranks among the top three nationwide for revenue from music shows. It is estimated that income from the city's music industry last year will have exceeded 32 billion yuan (£3.62 billion), 18 per cent more than last year.
Chengdu is also endowed with resources that make it an international tourist destination, the most obvious of these being its iconic panda. Just as people worldwide have come to identify the panda as an emblem of China, many Chinese regard Chengdu as the animal's hometown. The panda is one of the key attractions for tourists who descend on the city, but local officials are intent on expanding its panda culture and creating better tourism services relating to the animal.
In addition, Chengdu will support the development of independently organised tours and medical tours, as well as study tours relating to science and technology, and old industrial bases. As the city presses on with improving its comprehensive transport network that includes airports, highways and high-speed and intercity railways, more facilities to link tourist areas are being built.
The city has also set up a convenient shopping payment and tax rebate system for overseas tourists. Visitors can exchange foreign currencies at major tourism spots, hotels and shopping centres, and payment via smartphone is ubiquitous.
In recent years, Chengdu has hosted the World Snooker Championship, the International Universities Rowing Competition and the Chengdu Dubai International Cup in horse racing, and this has added to its expertise in hosting major international sports events.
If Chengdu is to promote international exchanges, it is critical that it make a name for itself for such expertise, local officials said.
Since ancient times Chengdu and its surrounding area have been regarded as a prosperous region. Today they have become a logical choice for anyone who is keen on excellent food and having many leisure options at their disposal.
The booming local food industry is a significant brand for the city. Chengdu has been awarded the title of City of Gastronomy by UNESCO, the first city in Asia to win the honour. Local authorities said Chengdu will use food as a calling card to attract more people to visit, taste and start their businesses in the city.
Relying on its attractive tourism, food, culture and infrastructure, officials said Chengdu will ramp up the development of its conference industry and build itself into a model in China for event services.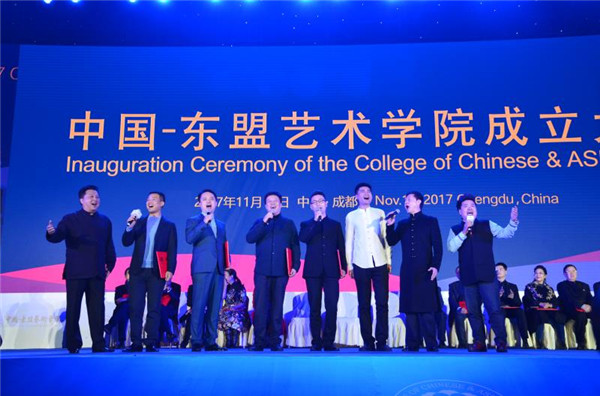 Chinese singers perform during the inauguration ceremony of the College of Chinese & ASEAN Arts, established in Chengdu in November.