Carving out a new existence
Snow sculpting has proved life-changing for some participants in Harbin's annual festival.
After completing a 300-meter-long snow sculpture, the first thing Zhou Yanzhi did was take a photo and send it to his wife and daughter.
"My daughter is preparing for the college entrance examination in June, so she has no time to travel here from my hometown in Changchun, Jilin province," Zhou said. "However, I hope they can be the first to appreciate my work."
Zhou, 42, finished the main snow sculpture at the 30th China Harbin Sun Island International Snow Sculpture Art Expo with his teammates after 10 days of hard work outdoors in the extremely cold winter in Harbin, Heilongjiang province.
At the beginning of December, a 100-member team gathered in Harbin - from Heilongjiang, Jilin and Liaoning provinces and the Inner Mongolia autonomous region - to spend about three weeks at the expo, which runs from Dec 20 to Feb 28 and is one of the most important parts of the city's ice and snow festival.
During the rest of the year, the participants make a living from farming, small businesses or carving, and, for most, this is not the first time they have attended the event.
"In most parts of China, it's not cold enough to create snow sculptures outside, but in Harbin, there is snow for more than a third of the year," he said. "Usually we work outdoors for 10 hours a day from the early morning to sunset, but I enjoy every minute.
"I feel lucky that I have the chance to contribute to the biggest snow sculpture ever created at the expo," Zhou added. "It's no exaggeration to say snow sculpture has changed my life."
Before 2001, Zhou made a living from farming in a village 100 kilometers from Changchun. In his spare time, he enjoyed carving wood after learning some of the basic techniques from his elder brother who ran an arts and crafts shop in Harbin.
"In the winter of 2001, I got the chance to learn from an excellent snow sculptor," he said. "However, snow sculpture is different from wood carving and it requires more complicated skills and more tools."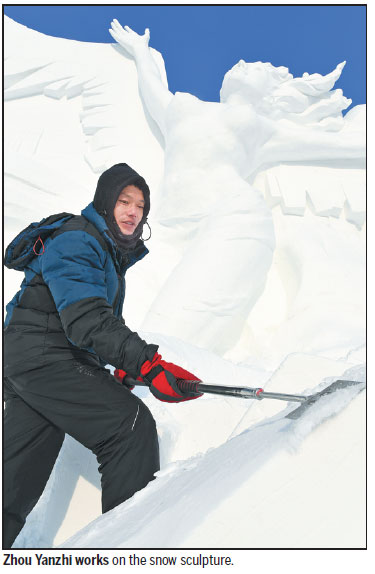 In his first year, his only task was to remove the redundant snow left by the sculptors.
"Even though I had no opportunity to use any professional tools, I observed the sculptors carefully," he said.
His attention helped him become skilled quickly, and now he is one of the best snow sculptors in the team.
Since 2001, Zhou has spent every winter in Harbin. In 2015, he opened a small decoration company in Changchun.
"I take inspiration from snow sculpture creation and it is well received by my customers," Zhou said. "Even if I can get a decent income from my business, I will never give up my winter date with the city."
During the weeks of the expo, almost all the team members live in the same hotel near the event.
"Most people don't like the cold winter in the northeast, but we all begin to look forward to it starting from late fall," said Dong Di. "We all miss each other after a year apart."
Dong, 35, said it is really different from the life he had as an IT engineer two years ago. "I became an IT engineer at a company in Chengdu after graduating from the Sichuan Fine Arts Institute in 2008," he said. "During the day, I sat facing my computer screen for work and to communicate with my colleagues. We seldom joked or chatted."
In 2015, he quit his job and returned to his hometown Harbin. Now he works in a private enterprise that allows him to take time off in winter.
Dong began to participate in the creation of snow sculptures last year. "Although I have only been in the team for two years, the experience feels different from my past jobs. While working outside, we often talk about the changes in our lives and joke freely," he said. "The work is hard, but the mood is quite relaxed."
After finishing the work in Harbin, some of the team members will continue to create ice sculptures in other cities, such as Changchun and Jilin.
"Harbin represents a high standard of snow carving and we have become busier in recent years with the increasing orders," Zhou said. "Although I'm not a Harbin local, I feel proud to represent the city."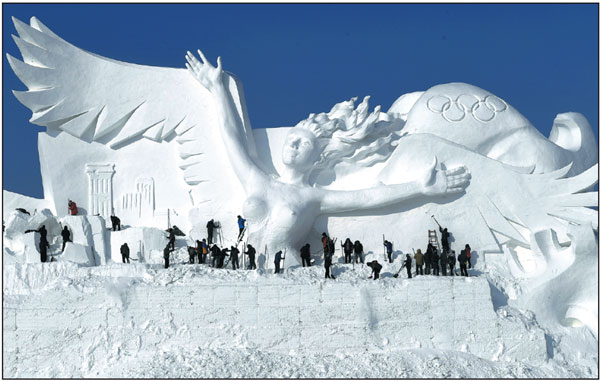 Nearly 100 artists work on a giant snow sculpture this month ahead of an international art expo in Harbin, Heilongjiang province.[Photos By Liu Yang / For China Daily]