Harbin Ice and Snow World commences operations
Harbin Ice and Snow World officially opened to the public on Dec 23, about half a month earlier than its scheduled date.
This year's ice and snow world is themed "frozen garden, fantasy world". The designers of the park got inspired from China's Belt and Road initiative Strategy, depicting the iconic landscapes and architectures of the countries along the Silk Road by ice and snow sculptures.
The ice and snow world was designed and built by renowned overseas artists and local architectural designers. It covers an area of 800,000 square meters, with 180,000 cubic meters of ice and 150,000 cubic meters of snow. It is the largest ever ice and snow park to be built in Harbin, and the largest work of ice and snow architecture constructed in the entire world.
Combining light, shadow, colors and rhythm to give visitors a unique experience, the park has 10 scenic areas with different themes, including the Crown of Ice and Snow, Charming Bangkok, the Garden of Milan, Walking through Kunlun Mountains, Discovery in the Mediterranean Sea and the Ceremony of Moscow. More than 2,000 ice and snow landscapes are created to take tourists into a fantasy wonderland.
Additionally, Harbin Ice and Snow World launched over 30 ice and snow entertainment activities to satisfy tourists' curiosity of winter fun. This year's entertainment projects feature a 365-metre-long ice slide, and a 180-meter snow track.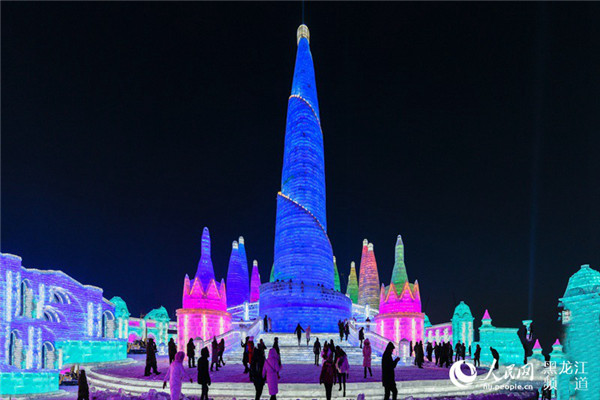 Visitors tour the Crown of Ice and Snow area of Harbin ice and Snow World on Dec 23.[Photo/Chinanews.com]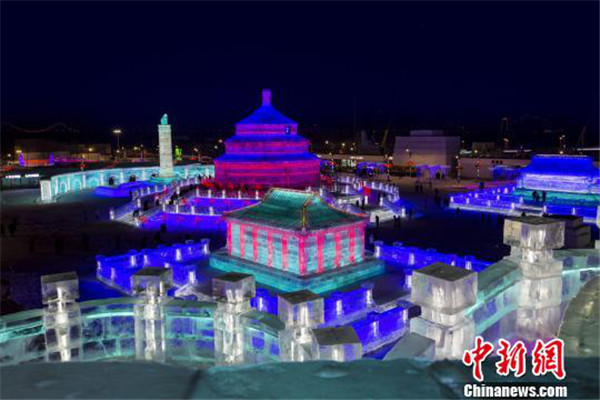 Ice sculptures in Harbin Ice and Snow World are illuminated in various colors, making the attraction into a dreamlike land full of colorful wonders.[Photo/Chinanews.com]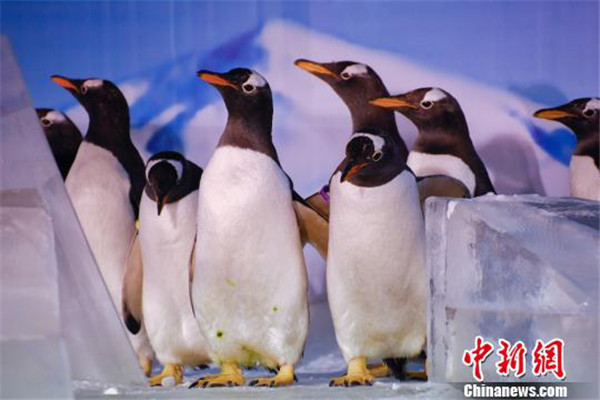 Harbin Ice and Snow World introduce penguins from Harbin Polarland to entertain tourists. [Photo/Chinanews.com]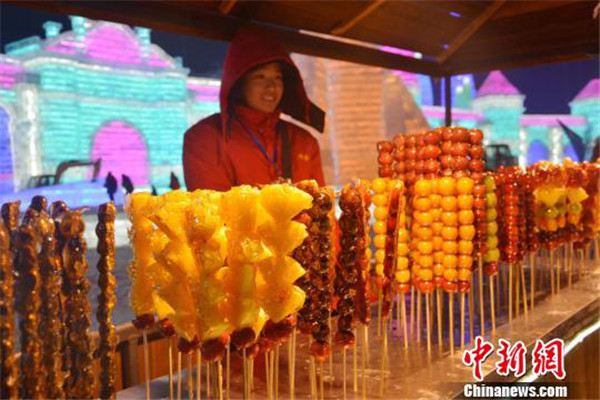 A staff member of Harbin Ice and Snow World sells bingtanghulu, a popular snack in North China. [Photo/Chinanews.com]