Inner Mongolia becomes a paradise for migratory birds
(chinadaily.com.cn)
Updated: 2017-04-06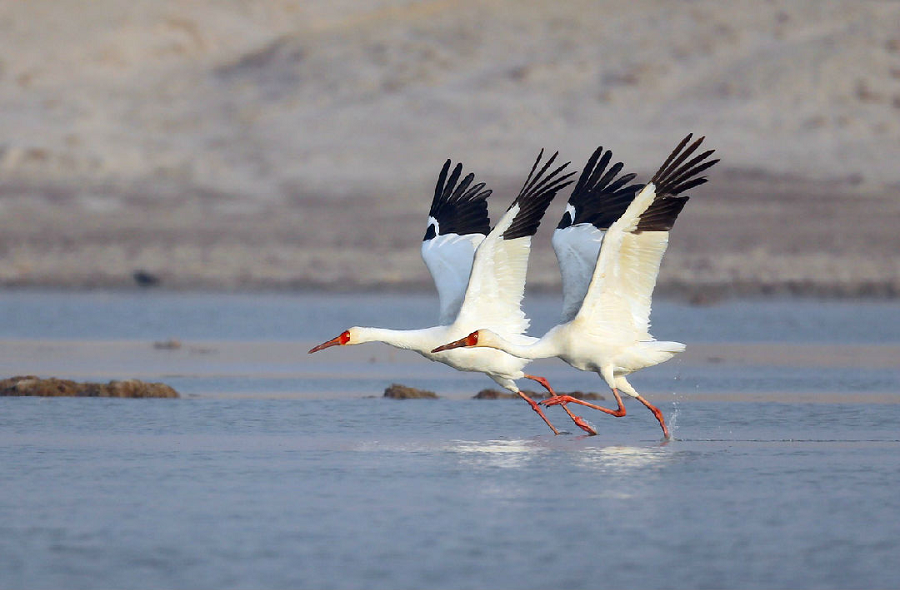 Two white cranes fly wing to wing at Agula wetlands, Horqin Left Wing Rear Banner, Tongliao, Inner Mongolia autonomous region. [Photo/nmgnews.com.cn]
With a wide span of longitudes, Inner Mongolia boasts over 180 nature reserves and 49 national-level wetland parks, all of which attract flocks of migratory birds to perch there during the long journeys.
From Juyan Lake to Horqin Grassland, migratory birds — swans, geese, egrets, mallards, cranes and gulls — gather in the wetlands and lakes to eat and rest before resuming their long annual journeys.
Usually there are three migration routes for birds that travel through Inner Mongolia.
One route starts from Poyang Lake in Jiangxi province, with stopovers in Chifeng city in Inner Mongolia, and then transferring to two separate ways, one to the northeast to the Hulunbuir grasslands and the other through Tongliao and Manzhouli (both in Inner Mongolia) heading to breeding grounds near Lake Baikal in Russia.
Another route travels along the Yellow River, stops over in Baotou and Bayannur in Inner Mongolia, and then goes to Mongolia, said Yang Guisheng, professor of Inner Mongolia University's school of life sciences.
In recent years, officials in the region have worked hard to protect the water and air environments through retrieving grasslands from reckless grazing and planting drought-resistant trees to control desertification. Thanks to these measures, the region has hosted over 50 new species of birds.
Now a crowded paradise for migratory birds, the region houses over 500 species including nearly 420 sorts of migratory birds and 80 types of residents wild birds, according to local wildlife conservation institutes.