Lenovo and Kopin to commercialize enterprise AR headsets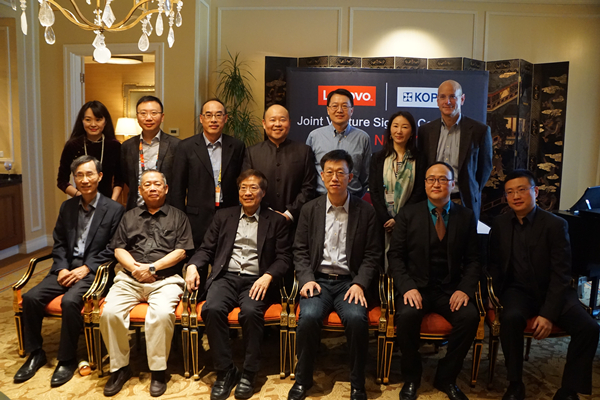 George He (fourth from left, first row), Lenovo SVP and LCIG President; Dr. John C.C. Fan (third from left, first row), Kopin's President and CEO;  and Yuli Bai (fifth from right, first row), Lenovo VP and LNV General Manager, take a photo with other attendees after a joint venture signing ceremony in Las Vegas on Jan 5. [Photo provided to chinadaily.com.cn]
Lenovo Capital and Incubator Group (LCIG), Lenovo's global technology industry fund, and Kopin Corporation announced the establishment of a joint venture, Lenovo New Vision, which will focus on AR smart headsets for a broad range of applications in Las Vegas on Jan 5.
George He, Lenovo SVP and LCIG President, said, "AR/VR is the next generation technology that will change the world after PC Internet and mobile Internet. It is a required technology investment direction for virtually every enterprise. We truly value the cooperation with Kopin, and believe that this cooperation can further accelerate the growth of the enterprise AR market by bringing users optimized products and services."
"We are very excited to enter into a strategic relationship with Lenovo," said Dr. John C.C. Fan, Kopin's President and CEO. "By combining Kopin's advanced wearable technology and Lenovo's strength as a global IT and equipment solutions provider, both parties can accelerate the commercialization of AR products and succeed in the fast-growing China and global AR markets."
Under the terms of the agreement, Kopin, a leading developer and provider of innovative wearable technologies, will provide a small capital investment, industrial design solutions, and know-how to utilize key Kopin components for the Lenovo New Vision, including micro-displays, optics, software, and the Whisper Voice Chip.