Industrial parks became a magnet for the world
Chengdu is boosting its openingup and is expanding its collaboration with many countries, through the construction of a series of international cooperative industrial parks.
Eight major projects with investments totalling 5.2 billion yuan (£600 million) began construction in Chengdu Hi-Tech Zone on Nov 29 at the Singapore- Sichuan Hi-Tech Innovation Park. The projects are all regional headquarters and research and development bases, focusing on fields such as network and information security, mobile internet, digital video and bio-medicine.
Developed by Singapore and Sichuan, the park covers 2,555 acres and is positioned to become a modern, highend business and residential cluster that will accommodate 120,000 to 150,000 people.
Zhao Shumei, vice-president of Shenzhen Chipscreen Biosciences and general manager of Chengdu Chipscreen Pharmaceuticals, said her company is building its largest new drug R&D centre and regional headquarters in the park.
Her company has also set up a 430,560-sq-ft manufacturing base in the western park of Chengdu Hi-Tech Zone, due to finish construction at year-end, she said.
"We chose the city because it has established a full industrial chain in bio-engineering and pharmaceuticals, and the local universities offer plenty of talent," she said, adding that Sichuan University could provide ample graduates for the company's new operations.
Ke Zonggui, vice-chairman and general manager of Bluedon Information Security Technologies Co, a network and information security company based in Guangzhou, Guangdong province, said he favours Chengdu for its large talent pool and science and technology culture.
"I have visited the hi-tech parks in the city and I found the technologyfocused atmosphere here is as good as in Guangzhou."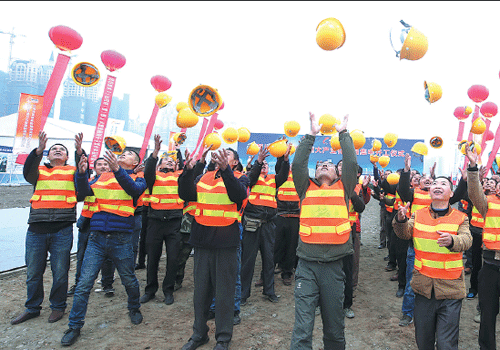 Construction workers celebrate the groundbreaking of eight major projects at the Singapore-Sichuan Hi-Tech Innovation Park on Nov 29.
Bluedon will set up its southwest headquarters and R&D base in the park, with a total investment of 600 million yuan.
By the end of November, 26 companies had made commitments to set up R&D centres and headquarters in the park with combined total investment of more than 24.7 billion yuan.
Chengdu has also established co-operative industrial parks with countries such as Germany, France, South Korea and Cuba, creating new advantages for the city's industrial development.
In early November, the city inaugurated a Sino-German innovative industrial co-operation zone in Chengdu Science City, a new technology, industry and business centre in the Tianfu New Area, China's 11th national-level new area.
Covering 5,436 acres, the zone will be the main platform for Chengdu to conduct innovative collaboration with Germany.
It has planned 10 industrial sections, covering fields such as scientific research, medical health, intelligent manufacturing and international trade and business.
Other Sino-German collaboration areas in Chengdu include an industrial demonstration park in Chengdu Hi-Tech Zone, an automotive industry park in the city's Longquanyi district, as well as a small and medium-sized enterprises co-operation park in Pujiang county.