Aiming an insightful exploration on the transportation and urban synergy development, International Association of China Planning (IACP) Annul Conference - 2016 Transportation and Urban Synergy Development Forum unveiled in Beijing Jiaotong University on June 30.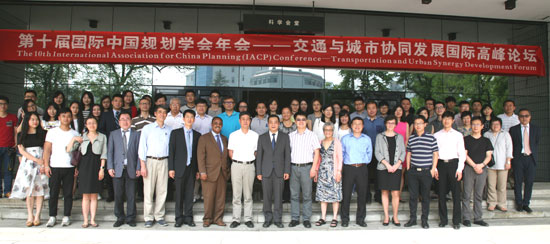 Attendees of the 10th IACP Conference's Transportation and Urban Synergy Development Forum pose for a group photo on June 30 while the keynote speakers and forum hosts stand in the front. [Photo provided to chinadaily.com.cn]
Both international experience and Chinese practices were discussed at the forum with a foothold on the relationship between the urban transportation and the urban development.
Genevieve Giuliano, the senior professor and vice-dean of the Sol Price School of Public Policy at the University of Southern California, shared her studies on rail transit in an auto-oriented city through a case study of Los Angeles. The director of School of Public and International Affairs at Virginia Polytechnic and State University, Anne Khademian, addressed transportation and urban planning in American mega-regions on a multiple jurisdiction and system basis.
Binyam Reja, the China Transport Cluster Leader and Lead Transportation Specialist of the World Bank, discussed his views on PPP (Public-Private Partnership) in his speech at the forum.
The interaction between urban rail transits, with urban planning, was the speech topic of Song Minhua, the deputy chair and chief secretary of China Association of Metros. His speech explored the topic through the background to efficiency evaluation indexes while Wu Zhiqiang, a vice-president and professor in Tongji University, contributed to the discussion in his speech with the Chinese practices on the challenges and opportunities emerging in the urbanization of China.
Other forum participants included Liu Jun, the vice-president of Beijing Jiaotong University, Han Linfei, a professor of the university's School of Architecture and Design, Xia Haishan, the dean of the School, and Jason Cao, IACP's president.
The forum was the opening event of the IACP's 10th Conference.
Founded in Washington D.C in 2005, IACP is an independent non-profit organization which includes scholars, experts, planners and students who are interested in Chinese planning and serves as a bridge for Chinese scholars and experts in urban planning to exchange ideas with their international peers.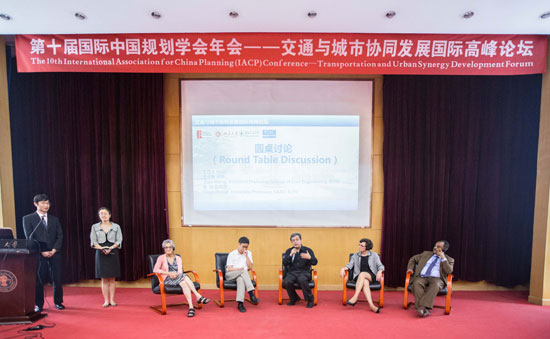 Round table discussion is held to conclude the forum. [Photo provided to chinadaily.com.cn]