Shicai Ritual kicks off at the Confucius Temple in Beijing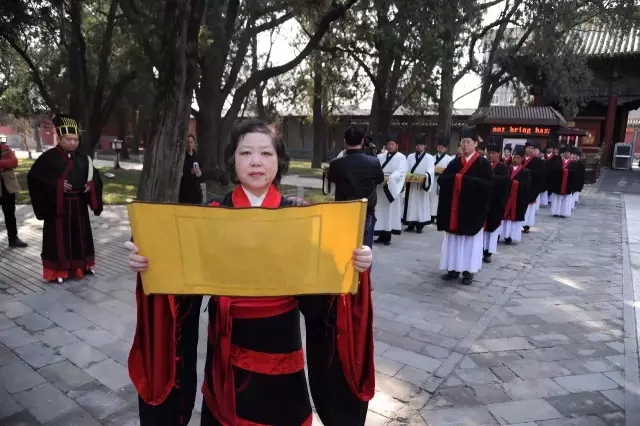 Ji Jiejing, director of Chengxian Sinology Institute, delivers a speech at the ceremony.
Sponsored by the China Next Generation Education Foundation's Sinology Education Research and Development Fund, the Spring Rain Initiative got off to a flying start at the Confucius Temple in Beijing on March 20.
Twenty school principals, teachers, experts and scholars from Huangzhong county, Qinghai province, attended the opening ceremony.
The Shicai Ritual, which uses fruits, vegetables and vegetable soup as sacrifices, is a vital part of Chinese traditional ceremonies paying homage to Confucius and ancient sages. The cress represents young students, chives represent talent, and jujubes represent ambition.
The Spring Rain initiative provides free sinology training for teachers from the "Belt and Road" regions and underdeveloped mountainous areas in Western China. The project intends to train 100 sinology teachers from Huangzhong county.
The day also marked the beginning of this year's Spring Equinox. The Chinese lunar calendar divides a year into 24 solar terms, the Spring Equinox is the fourth term of the year.
The Spring Equinox is one of the points of the year when night and day are of equal length. On the day of the Spring Equinox, the sun is directly above the equator. After the equinox, it moves northwards, resulting in gradually longer days in the northern hemisphere and longer nights in the southern hemisphere.