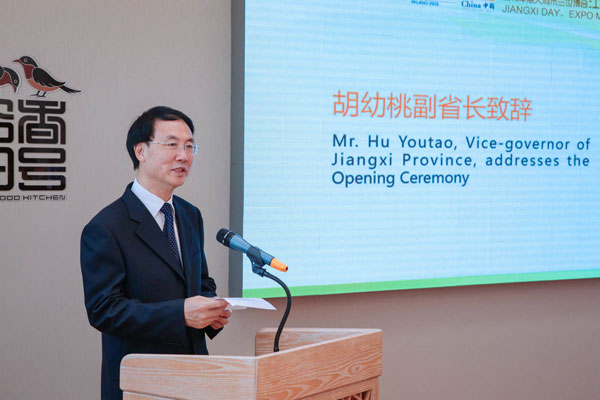 Hu Youtao, vice governor of Jiangxi, delivers a speech. [Photo by Zhang Zhouxiang/China Daily]
MILAN, ITALY — Jiangxi province will not only welcome foreign investment, but also encourage its enterprises to invest in Italy and other parts of Europe, said Hu Youtao, vice governor of the province in Central China at the Jiangxi Day event of 2015 Milan World Expo, held on July 18.
Traditionally an agricultural province, Jiangxi used to be famous for its exports of rice and surplus labor. Most of the income from the low-skill laborers went outside the province and the economy failed to develop.
In the past 7 to 8 years Jiangxi started developing local enterprises to boost the economy. By offering subsidies to business starters and simplifying procedures for private companies, Jiangxi gradually saw the growth of local enterprises and their expansion around the country and overseas. "We will continue reforming to make it more convenient for our enterprises to go abroad," Hu said in the opening remarks of the event.
Hu is echoed by Yu Ping, vice president of China Council for the Promotion of International Trade, who emphasized the importance of enterprises going overseas. "Jiangxi has special advantages in promoting the overseas expansion of enterprises, because its air and water quality are among the best of the nation," he said, "besides, it is where Jingdezhen city is located — the city with the richest porcelain-making tradition in China."
Wang Ping, China's consul general to Milan, welcomed Jiangxi enterprises to Italy and said she and her consultancy will provide help and convenience. The event was followed by a signing ceremony for cooperation protocols between Jiangxi province and Italy-China Commerce Association, as well as with Lugano city, Switzerland. The 2015 Milan Expo offered an opportunity for them to cooperate and they will continue joining hands on the path towards common prosperity, said Liu Cuilan, Director of Commerce of Jiangxi.