SHANGHAI, March 25, 2015 – UTC Building & Industrial Systems, alongside the Chinese Society for Urban Studies, China Green Building Council and Eco-City Research Committee of China, participated in a dialogue about the environmental and economic value of green building at this year's International Conference on Green and Energy-Efficient Building & New Technologies and Products Expo (IGEBC).
United Technologies has been a top sponsor of IGEBC for 11 years, supporting China's green building and sustainable development initiatives. The country's rapid urbanization rate is a focus of China's landmark National New-type Urbanization Plan (2014-2020), which supports the need for sustainable urban development as more people move into cities. By 2020, China plans to make 30 percent of all new constructions green ones.
John Mandyck, chief sustainability officer of UTC Building & Industrial Systems, highlighted the value of green buildings as excellent environmental and business decisions during opening-day remarks.
"Green buildings are a critical component of sustainable urbanization that offers both environmental and economic benefits," said Mandyck. "Green buildings are where people want to work and live, and as such, these buildings generate a higher cash flow thanks to higher rent and occupancy rates. Going forward, the health and productivity of people will provide a new context on value for green buildings that will accelerate the movement in China and around the world."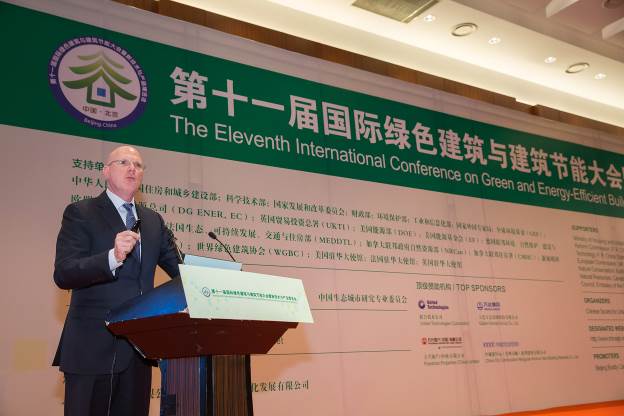 John Mandyck, chief sustainability officer of UTC Building & Industrial Systems, points out that green buildings are a critical component of sustainable urbanization that offers both environmental and economic benefits, at this year's International Conference on Green and Energy-Efficient Building & New Technologies and Products Expo (IGEBC), in Shanghai. [Photo provided to chinadaily.com.cn]