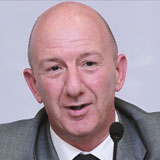 Nicholas Speeks, president and CEO of Beijing Mercedes-Benz Sales Service Co Ltd
We are walking in the correct direction rolling out many products in response to Chinese customer demands.
Also, as you know, we added 75 dealerships last year, and are expanding our dealership network at an unprecedented pace, with plans to add 100 dealer outlets this year, with most of them in third and fourth-tier cities.
And after we established a sales company last year, we are narrowing the gap with our competitors. We are confident that we can overtake them.
With 47 percent year-on-year growth in the first quarter, Mercedes-Benz is very encouraged by our performance in China so far this year, and our strong product offensive in 2014 beginning here at Auto China gives us further reason to be confident.
Following the launch of the new CLA, we will continue to bring Chinese consumers a variety of Mercedes-Benz star products.
We believe that we can register double-digit growth this year.
We will not set a number for this year, but the sales goal for 2015 is 300,000 units.
Mercedes-Benz is determined to use all the resources at our disposal to sustain the strong momentum we achieved last year.