City walls invoke a vivid story from ancient past
Updated: 2012-08-10 07:53
By Liu Xiang (China Daily)
| | | | | | | | | | | |
| --- | --- | --- | --- | --- | --- | --- | --- | --- | --- | --- |
|   | | Comments() | | Print | | Mail | | Large Medium  Small | 分享按钮 | 0 |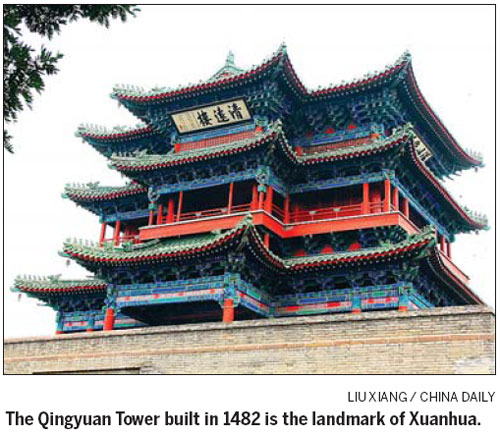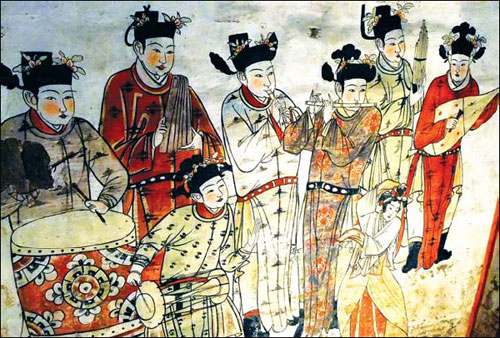 A recently unearthed fresco in a Liao Dynasty (916-1125) tomb looks almost freshly painted. Liu Xiang / China Daily
Most cities and towns along the Great Wall have their origins as important military bases to defend against nomadic tribes from the north, and the ancient city of Xuanhua in Hebei province is no exception.
One of the nine strongest fortresses along the Great Wall, its garrison had more than 100,000 soldiers during the Ming Dynasty (1358-1644), compared with a civilian population of only several thousand.
Although wars and battles are now far distant memories even for locals, Xuanhua's well-protected ancient city walls and magnificent gate towers still tell a vivid story from the remote past to tourists from home and abroad.
Xuanhua's city walls are among the most famous in China. Walls from different dynasties, even back to the Yan Kingdom in the Warring States Period (475-221BC), played a part in its status of a stronghold.
Only 170 kilometers from Beijing, Xuanhua - which literally means educating the (nomadic) people in the north by publicizing (the central empire's) benevolent rules - has a history written in iron and blood, conspiracy and rebellion.
According to Tang Dynasty (AD 618-907) records, Xuanhua was once called Xiongwu City, which was built to strengthen the border by the notoriously cruel military governor An Lushan, who was actually preparing for a revolt against the Tang government.
Large-scale renovation of Xuanhua was completed in the early Ming Dynasty when prince and general Zhu Hui stationed a military force to fend off an expected invasion of Mongolians from the north.
Zhu expanded Xuanhua into a large fortress of high walls with a total length of 12,120 meters and seven gates.
As a result, the fortress was claimed by the government "as solid as iron and steel".
It survived the most frequent and severe attacks from Mongolians during the Ming Dynasty.
Although the city walls have lost their power to defend against military attacks after 600 years of weathering, they are still the most significant symbol of Xuanhua.
Their magnificence and beauty can be compared with today's city walls in Xi'an and Nanjing.
A number of other historical structures also remain intact today.
The Qingyuan Tower - or the Bell Tower - built in 1482, is a distinctive building with multiple eaves and roofs.
It enjoys a reputation equal to another ancient landmark, the Yellow Crane Tower in Wuhan, capital of Hubei province.
Inside the tower, a 2.5-meter-tall, 5-ton bell can still ring with the same power it did 500 years ago.
Just 200 meters from Qingyuan is the drum tower called Zhenshuo, which has a history of more than 560 years.
The 25-meter-high Zhenshuo Tower houses a big drum long used to report the time of day.
A large plaque over the north face of the Zhenshuo Tower has inscriptions indicating the city shelters the national capital Beijing.
It was written by renowned Emperor Qianlong in the Qing Dynasty (1644-1911) when he visited Xuanhua on his tour of north China.
Also on a straight line with Qingyuan and Zhenshuo is the well-preserved Gongji Tower, a two-story building that serves as Xuanhua's southern city gate.
Outside the city there are also a number of compelling historical sites including Liao Dynasty (916-1125) tombs in the northwestern village of Xiabali featuring frescos with bright colors that today still look like they were freshly painted.
liuxiang@chinadaily.com.cn
(China Daily 08/10/2012 page15)