Guangfu: 2,600 years old, birthplace of tai chi
Updated: 2012-08-10 07:53
By Liu Xiang (China Daily)
| | | | | | | | | | | |
| --- | --- | --- | --- | --- | --- | --- | --- | --- | --- | --- |
|   | | Comments() | | Print | | Mail | | Large Medium  Small | 分享按钮 | 0 |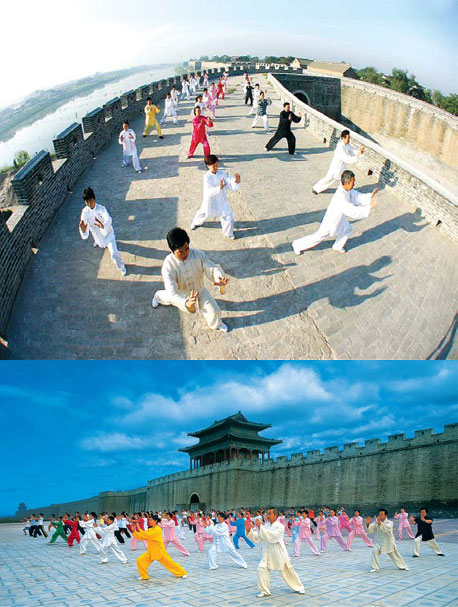 A traditional Chinese therapeutic exercise combining kung fu and the qigong breathing exercise, the popularity of tai chi has spread across the world from Guangfu, where today even toddlers and the very aged continue its practice. Provided to China Daily
The ancient town of Guangfu, in Yongnian county, Hebei province might be as unknown to the outside world as millions of other settlements in China except for a singular fact - it is the birthplace of tai chi.
Now 2,600 years old, Guangfu remains vibrant, attracting adherents who arrive on a pilgrimage to the epicenter of China's most notable martial art.
Tai chi is a traditional Chinese therapeutic exercise combining kung fu and the qigong breathing exercise, practiced by people of all ages.
Famous Yang-style and Wu-style tai chi, now listed as national intangible cultural heritage, were both created in Guangfu.
According to locals, Yang Luchan, an influential tai chi master in the late Qing Dynasty (1644-1911), studied tai chi chuan - or tai chi boxing - for 18 years and finally learned its essence. Then he created the Yang-style tai chi chuan, which won him the title of "invincible Yang".
Another famous master, Wu Yuxiang, traveled to South China to learn local martial arts and created Wu-style tai chi chuan.
About 80 percent of the 300 million tai chi practitioners worldwide follow either Yang or Wu-style tai chi.
Today in Guangfu, most residents know tai chi chuan. Locals say kids begin when they start to walk and the martial art is still popular among the elderly, some of them 99 years old.
A number of its tai chi masters have made great efforts to promote tai chi and its culture abroad.
Since 1991, Guangfu has held the Yongnian International Tai Chi Chuan Festival that attracts the attention of followers worldwide and brought vitality to the ancient town.
Guangfu's attraction is not limited to tai chi enthusiasts. It has its own allure for those who want to explore the local details of China's ancient history.
The town is said to have been founded in the Spring and Autumn Period (476-770BC).
It was once the capital of the Xia Kingdom during the chaotic years of the later Sui Dynasty (AD 581-618).
Today the ancient city walls built during the Ming Dynasty (1368-1644) are intact.
Inside the walls, the 1.5-square-kilometer ancient town has four streets and eight lanes lined by old, traditional structures.
In the east, Hongji Bridge has retained its original Sui Dynasty design, but its great age was recently dwarfed by animal fossils from the Ordovician period more than 400 million years ago discovered near its buttress.
Guangfu is a renowned water town in North China because it lies at the center of the Yongnian Marsh, the fourth-largest wetland in Hebei province. Over the centuries, a complete drainage and water management system has taken form.
Its Xibazha water gate project built during the Ming and Qing dynasties still operates well. It is also the pivotal part of an irrigation system that nourishes thousand of hectares of fertile farmlands outside the ancient town.
liuxiang@chinadaily.com.cn
(China Daily 08/10/2012 page15)