Tourists finding sedate respite in Yuxian county
Updated: 2012-08-10 07:53
By Liu Xiang (China Daily)
| | | | | | | | | | | |
| --- | --- | --- | --- | --- | --- | --- | --- | --- | --- | --- |
|   | | Comments() | | Print | | Mail | | Large Medium  Small | 分享按钮 | 0 |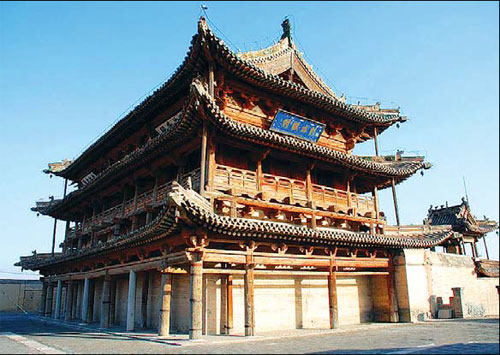 The Jade Emperor Pavilion was built in 1377 to worship the highest god in the Taoist cosmology. Liu Xiang / China Daily
After intensive days touring the grandeur of Beijing's imperial palaces and gardens, increasing numbers of tourists take a relaxing trip to a county 250 kilometer west of the national capital to experience another kind of cultural charm.
In Yuxian county, Hebei province, the attraction is more sedate - the grassroots art of paper-cutting.
The history of Yuxian paper-cutting stretches back more than 200 years. The traditional art form is mostly used in window decorations, so a finished work is also called a window flower.
The earliest window flowers were tianpiliang - cuttings and paintings on mica sheets.
Today's window flower art has inherited the essence of tianpiliang and learned from the embroidery patterns used on shoes, pouches and pillows that are also popular in the county.
Also absorbing color features from window flowers in other places, Yuxian paper-cutting evolved its unique style.
Unlike most other paper-cuts found in China done with scissors and paper of a single color, the creations in Yuxian are made with special knives and are multi-colored.
The special technique is called yin cutting, which uses knives to nick small patterns, leaving behind more paper to paint on.
Images found in the paper-cuts are mainly Chinese opera figures and auspicious images such as birds, flowers and insects.
A master Yuxian paper-cut artist was Wang Laoshang (1890-1951), who created thousands of window flowers during a career that spanned almost 40 years.
In 2006, Yuxian paper cutting was included in China's first list of State-level Intangible Cultural Heritage. In 2009, UNESCO added it to its own list, the Intangible Cultural Heritage of Humanity.
In addition to this original art, tourists can also visit the many cultural and historical legacies as well as natural wonders in Yuxian county.
With a recorded history dating back to the Shang Dynasty (1600-1046 BC), Yuxian is an ancient city known as the "museum in the ground". It ranks second in the number of historical relics among all counties in China.
It has 1,610 known cultural relic sites, nine of them given State-level protection and 30 on the provincial-level list.
The most famous sites are the Jade Emperor Pavilion, Nan'an Temple Pagoda and Shijia Temple. Featuring styles of different dynasties, they represent the range of ancient China's main belief systems - Confucianism, Buddhism and Taoism.
Besides the historical legacies, Yuxian has fascinating natural wonders.
On top of a mountain 2,158 meters tall, a marshy grassland covering 36 sq km. It is called "hanging grassland" due to the height and flatness.
In the south of grassland, mountains tower with steep cliffs and deep gullies. A forest covering more than 500 hectares is in the north offers a home to animals such as pheasants, foxes and wild goats.
The average temperature of the grassland is 15C, with fresh air and clear weather. Different types of plants, rare rocks, ice caves and running water make it a welcome summer respite away from urban life.
liuxiang@chinadaily.com.cn
(China Daily 08/10/2012 page15)