Tenuous links in our chain of glory
Updated: 2012-04-05 08:08
By Huang Xiangyang (China Daily)
| | | | | | | | | | | |
| --- | --- | --- | --- | --- | --- | --- | --- | --- | --- | --- |
|   | | Comments() | | Print | | Mail | | Large Medium  Small | 分享按钮 | 0 |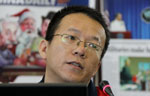 When Facebook founder Mark Zuckerberg was spotted walking around Shanghai with his girlfriend last week, it caused quite a sensation in China's cyber world, in a way that has become all too familiar - playing the ethnic card.
The focus of the online comments was not speculation about Facebook's possible entry into China, but the young billionaire's Chinese girlfriend Priscilla Chan. The Chinese-American woman's family origins in Nanjing, Jiangsu province, were highlighted with palpable smugness, as if to attest that behind every successful man there stands a Chinese woman.
I marvel at my compatriots' ability to turn any success into the glory of the Chinese nation so long as a Chinese link, no matter how tenuous, can be established.
I would not say that I have a knack for talking to people, but I can usually start a conversation with someone I am not familiar with just by asking a simple question: where are you from?
I have always found this inquiry magically effective. Whatsoever the answer is, a query about a person's hometown or place of birth always permits a string of follow-up questions about such things as the climate, food and dialect, topics that can easily elicit lengthy and friendly talks.
I have found it convenient to strike a chord with other people by playing the "hometown card". As I was born in Beijing, spent my early days in Chongqing and received my middle-school and college education in Xuzhou, Jiangsu province, I identify myself - tongue in cheek - as a fellow townsman of people from these places, and I am usually readily accepted as such. My parents' ancestral roots, in Anhui and Hubei, also enable me to expand my scope of kinship to include people from these two provinces. I have made friends with many people by taking advantage of the deep attachment Chinese people have for the place where they were born.
In China, the idea of being from the same place lubricates personal relations and binds people together. Writer Lin Yutang attributed it to the importance of the family in Chinese society.
"It is the family mind enlarged," he said.
It is natural for many Chinese to harbor this simple sentiment, but it becomes absurd if it is extended far too much.
Take another example, Wendi Deng, the "tiger wife" of media mogul Rupert Murdoch. She became a "national hero" last July when she swung a slap at a man trying to hit her husband with a shaving foam pie when Murdoch was going through a British parliamentary committee hearing over News Corp's phone-hacking scandal. The way the Chinese media heaped praise on her for this knee-jerk response and many Chinese netizens saw her as a source of national pride gave me the impression that she had helped wash away the hundred years of humiliation imposed on China by Western powers since the Opium War.
The same can be said of "Linsanity", the spectacular emergence of NBA player Jeremy Lin, who has ignited a fight for bragging rights on both sides of the Taiwan Straits because Lin is the California-born son of Taiwan parents who emigrated to the United States in the 1970s.
But while Lin takes this ethnic background as "humbling, a privilege and an honor", there are others who want to distance themselves from it.
The last thing US ambassador Gary Locke wants is to be seen as "a natural ally" of China because of his Chinese ancestry. Before he was returning to the birthplace of his grandfather, the US media warned of "nasty shock" if Chinese officials tried to "play the ethnic and kinship card".
Former Singaporean prime minister Lee Kuan Yew revealed in his memoirs how uncomfortable he felt when China, as it seemed to him, embraced his city state as a "kinsman country".
"We had never felt more un-Chinese than on that first visit" to China in 1976, he wrote. "We could have passed off in appearance as one of them, but even so we felt keenly that we were not one of them."
His words, blunt as they are, could not be more right.
The author is a writer with China Daily. Email: huangxiangyang@chinadaily.com.cn
(China Daily 04/05/2012 page8)