Wudang pupil becomes peace-keeping martial arts instructor in Sudan
By Liu Kun and Yang Zhenxue ( chinadaily.com.cn )
Updated: 2014-08-20
Xu Mingli, a member of the guard squadron in China's ninth batch of peace-keeping forces in Sudan, brought Wudang marital arts to a global stage by working as a kung fu instructor to his international comrades, 10yan.com reported.
Xu received kung fu training at the Wudang Mountains years ago and once won first place in a martial arts competition. Since arriving at the peace-keeping mission area, he has spent a lot of spare time practicing martial arts. His activities inspired foreigners to praise China's peace-keeping force and Chinese kung fu.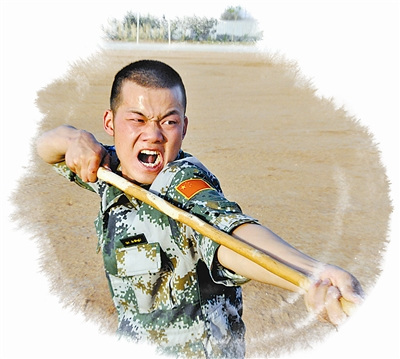 Xu Mingli practices martial arts. [Photo/ Sun Yuliang]
During Spring Festival, China's peace-keeping force held a party in the Nyala supercamp of the United Nations and invited other countries' officers and soldiers. Xu's boxing performance gained thunderous applause during the party. Eggy Aoma, commander of the south war zone, sought Xu after the party and hoped he could teach boxing to the other troops.
"It's my pleasure to act as a martial arts instructor through which China's culture can spread worldwide," Xu agreed without hesitation. He arranged to organize and assemble other foreign officers and soldiers and teach them Chinese kung fu every evening. There were more than 100 students at the first session of the class.
At first, a few foreign students did not have a good understanding of the moves and failed to perform them well. But Xu never gave up and continued to teach them slowly and patiently even in intense summer heat. Later, two students tried to drop out of the class. He refused sternly and decided to add class hours for them privately.
Xu only has a junior high school qualification certificate and is not very good at English. In order to ensure the teaching went well, a translator was specially provided for him. However, he was determined to get across the language bridge by creating an elaborate English-learning scheme. Soon, he was able to use simple English to organize classes.
Guarding during the day, teaching in his spare time and learning English at night, Xu was 4 kg lighter several months later. "Xu is not only good at martial arts, but also possesses the spirit of fearless courage," said Serrava, a Nigerian lieutenant and one of Xu's students.
In early May, Xu accidentally broke his leg when he was demonstrating a move. All his students, ranging from ordinary soldiers to generals, came to visit him.
Lieutenant Paul Ignace Meira, the UN's chief commander in Africa, insisted on meeting the Chinese soldier after he discovered Xu taught martial arts in the army. Meira praised Xu as "a real peace-keeping hero and also an excellent kung fu master."
Contributed by Wang Liang and Jiang Yuanbo from Wudang Mountains Tourism Bureau
Edited by Zhang Qiong, Michael Thai