Wudang kung fu show debuts in Singapore
By Zhang Qiong ( chinadaily.com.cn )
Updated: 2014-08-08
Wudang kung fu inspired Singaporeans to visit Hubei province's Wudang Mountains at a tourism carnival held in Singapore's Suntec Convention and Exhibition Centre on July 26 and 27. The two-day event led around 500 Singaporeans to sign up for a tour of Hubei.
Hubei has recently been promoting its tourism resources in the Southeast Asian island country. Chen Shucheng, a well-known Singaporean actor, visited Hubei's exhibition stand and recommended scenic spots to local visitors. Chen said that the Yellow Crane Tower, Shennongjia, the Changjiang Gorges and Wudang Mountains are all appealing destinations, and that he will make the trip in October. The celebrity effect was notable, as many visitors came to buy tickets for the Hubei tour and chatted with Wudang kung fu masters.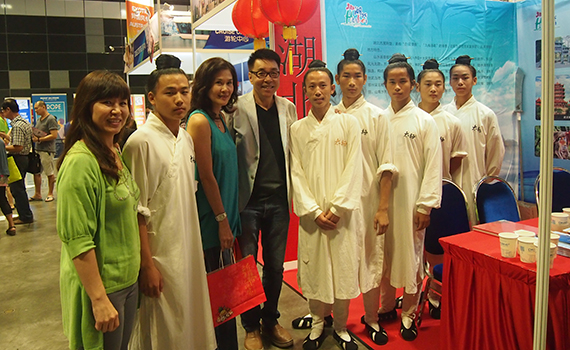 Singaporean movie star Chen Shucheng takes a group photo with Wudang kung fu artists. [Photo/wudangshan.gov.cn]
A Hubei tourism promotion was officially launched at the Singapore tourism fair this February. According to the Singapore aviation department, in the summer of 2014, passengers flying Singapore-to-Wuhan outnumbered those flying Wuhan-to-Singapore for the first time.
In the second half of the year, the province will further publicize its tourism products in the Southeast Asian market.
Contributed by Wang Liang and Jiang Yuanbo from Wudang Mountains Tourism Bureau
Edited by Noelle Mateer