White-haired Witch has scenes of Wudang Mountains
By Zhang Qiong ( chinadaily.com.cn )
Updated: 2014-08-04
The White-Haired Witch of Lunar Kingdom, a three-dimensional martial arts film that opened in theaters July 31, has a number of scenes shot in Wudang Mountains. Directed by Jacob Cheung (Zhang Zhiliang) and Tsui Hark (XuKe), the film stars major Chinese actors Fan Bingbing and Huang Xiaoming. It has scenes at the Wudang Mountains' Golden Summit, Nanyan and Zixiao Palace.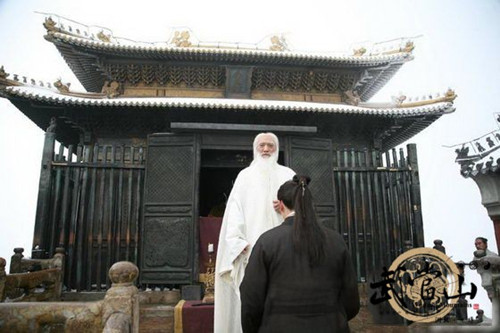 The White-Haired Witch is filmed at the Wudang Mountains' Golden Summit.[Photo/wudangshan.gov.cn]
Starring Fan Bingbing and Huang Xiaoming
The film is an adaption of The Bride with White Hair, a classic work by Liang Yusheng. It recounts a love story between a female bandit and a protégé from the Wudang martial clan. The two fight trials and tribulations as well as family feuds to lead people to build the Lunar Kingdom. The film is a blend of fantasy and action, and its many famous actors and actresses wear luxurious period costumes.
Seven minutes of Wudang landscape scenery
The crew filmed in the Wudang Mountains mainly in December 2012 and May 2013. Crewmembers pushed through severe cold and slippery roads to bring breathtaking Wudang snow scenes to life. Huang Xiaoming even suffered a bone fracture while shooting in late November 2012 and had to rely on his understudy to complete some portions of the film.
"We spent a week in Wudang, and there are six to seven minutes of scenes featuring Wudang scenery," said Zhao Leheng, the film producer. "We were especially impressed by the local snow scenery, especially at the Yinxian Rock at Five-Dragon Palace. We hope there will be more opportunities to shoot in Wudang."
The film released nationwide on July 31, a day earlier than scheduled in order to accommodate Chinese Valentine's Day audiences, the production team said.
Contributed by Wang Liang and Jiang Yuanbo from Wudang Mountains Tourism Bureau
Edited by Noelle Mateer