Taichi Lake builds deck for sightseeing
By Zhang Qiong, Liu Kun, and Yang Zhenxue ( wudangshan.gov.cn )
Updated: 2014-07-31
The government of Wudang Mountains Special Zone started building a deck over Jianhe River in the Taichi Lake tourist area in June. The walkway for sightseeing, when completed, will connect scenic spots in the area, including Shanshui Street, the martial arts exchange center, a wetland park, the musical fountain and a water-curtain movie site.
According to the construction team, the deck is 3,000 meters long and 3 meters wide. The walkway will be built into wood-like structures, with eight observation decks in between.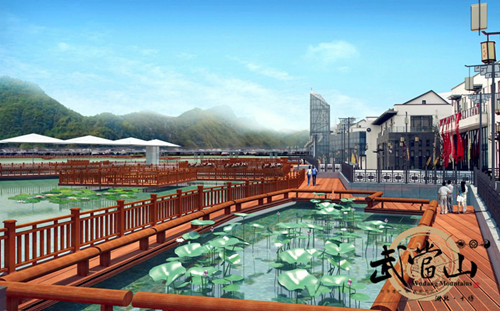 A rendering of the deck in the Taichi Lake tourist area, Wudang Mountains[Photo/wudangshan.gov.cn]
At present, the foundation construction is basically completed, and the major part of the project is expected to be completed in October. The walkway will be put into use in the autumn, when Taichi Lake retains enough water, and the musical fountain and water-curtain movie opens again. By then, as a major cultural tourism site in Wudang Mountains, Shanshui Street will attract visitors' attention again.
Shanshui Street is one of the spots not to be missed when visiting Wudang Mountains. It is the collision between tradition and fashion, of historical culture and the modern era.
Contributed by Wang Liang and Jiang Yuanbo from Wudang Mountains Tourism Bureau
Edited by Nelly Min