Wudang Mountains see tourism boom
By Zhang Qiong, Liu Kun,and Wu Shuqing ( wudangshan.gov.cn )
Updated: 2014-07-29
Wudang Mountains, a scenic spot known for its Taoism and Kung fu, as well as its beautiful scenery in Central China's Hubei province, received more than 3 million tourists, rising 18.09 percent year-on-year, in the first six months of the year. Over the same period, the tourism revenue amounted to 1.72 billion yuan ($277 million), up by 21 percent over the last year.
The local government has made great efforts in promoting Wudang in 2014. The branding project includes the launch of a tourism advertisement of Wudang on CCTV during prime time. The international channel of CCTV also produced a program named Wudang - the mountain of immortals.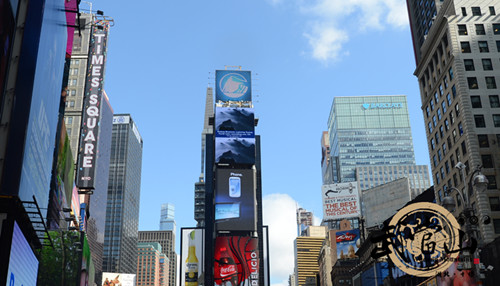 Images of Wudang Mountains are displayed on the large screen in Times Square, New York, in March, 2014.[Photo/wudangshan.gov.cn]
Meanwhile, Wudang Mountains propagate their scenic spots and products through online channels such as China net (china.com.cn), High-Speed Rail Era, Ifeng and Tianya, a popular Internet discussion forum. Wudang Mountains also enhanced the construction of its official tourism website, the official microblog of its tourism bureau and by publicizing its two-dimensional QR code. It held a travel activity for Internet users on the Tianya forum, which attracted more than 200,000 people to join in.
In aspects of cultural exchanges, Wudang participated in the seventh Central China Tourism Fair, the third CIFTIS and 2014 Guangzhou and Hubei Tourism Cooperation. It was praised highly in Guangdong province as a model scenic spot. The Wudang Kung Fu delegation will attend the Year of China in Russia, to make Wudang Kung Fu a symbol of the two countries' friendship.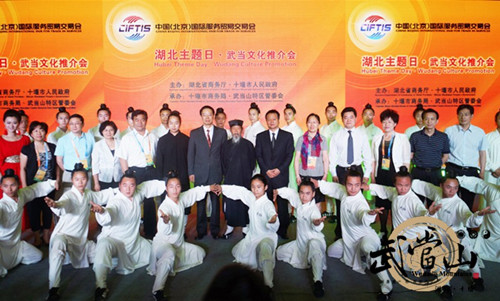 A Wudang Culture Promotion is held at the China Beijing International Fair for Trade in Services (CIFTIS) on May 31, 2014.[Photo/wudangshan.gov.cn]
Also, in the first half of 2014, a tourist-dedicated train from Beijng to Shiyan, the water source of the South-to-North Water Diversion project, was opened. Wudang also saw tourist trains from Shandong, Chongqing, Chengdu and Northeast China, which contributed greatly to its tourism development.
Travel agencies in Wudang are sticking to their strategy of 'go out and bring in'. They have started putting tourism ads in major newspapers, magazines and websites to attract more tourists.
Contributed by Wang Liang and Jiang Yuanbo from Wudang Mountains Tourism Bureau
Edited by Brian Salter