May Day sees parade of motorists
By Zhao Lei ( China Daily )
Updated: 2013-05-03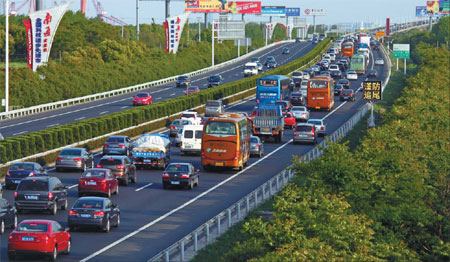 Cars move slowly on the highway in Nantong, Jiangsu province, on May 1, the last day of the May Day holiday. Photos Provided to China Daily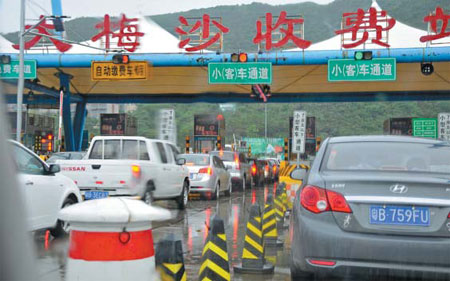 Passenger cars wait to pass the Dameisha toll station in Shenzhen on April 30, after a rainstorm hit the city.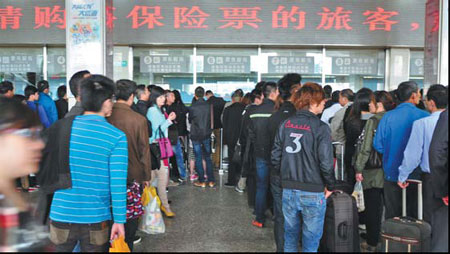 Passengers queue to buy tickets at the long-distance bus station in Nanjing on April 29.
Toll-free travel a boon for tourism as traffic increases from last year
The volume of traffic on China's highways surged during the May Day holiday as car owners used the toll-free period to make short-distance trips, the Ministry of Transport said.
During the three-day holiday, which started on Monday, more than 5.9 million trips were made on toll highways in Beijing, 30.2 percent more than in the corresponding same period last year, the Beijing Municipal Commission of Transport said.
The highest volumes were on the Beijing-Tibet and Beijing-Hong Kong-Macao highways - more than 200,000 cars each a day.
Nearly 2 million trips would be made on the capital's highways on Thursday, 41.1 percent higher than for the corresponding day last year, the commission said.
The Beijing Travel Committee said the toll-free policy significantly boosted local residents' trips to suburban scenic spots.
More than 1.6 million trips to Beijing's suburbs were made from April 29 to May 1, generating nearly 170 million yuan ($27.6 million; 21 million euros) in tourism revenue, it said.
The State Council decided in August that most of China's expressways should be toll free for cars with fewer than seven seats during four national holidays. As a result, the volume of traffic on expressways rocketed during the National Day holiday in October and the seven-day Spring Festival holiday in February, and severe congestion was reported on many highways.
The authorities streamlined the flow of traffic through toll gates, designated special lanes for cars eligible for the policy and published road information in a timely manner, Ministry of Transport officials said.
More than 20 provincial-level regions including Beijing, Shanghai and Anhui prepared plans to help drivers circumnavigate highway sections prone to congestion, the ministry said.
In Jiangsu province, East China, more than 4 million vehicles with fewer than seven seats used highways in the province during the three-day toll-free holiday, the Jiangsu Expressway Network Operation and Management Center said.
The number of cars with fewer than seven seats using highways during the May Day holiday period was almost double that of last year, it said.
In Danyang, a small city in the province famous for its eyewear businesses, people from neighboring metropolises of Shanghai and Nanjing drove hundreds of kilometers to local markets to buy eyeglasses, officials from the city's tourism bureau said.
The surge in traffic could be attributed to a combination of no tolls and attractive prices for glasses, it said.
In Heilongjiang province, Northeast China, more than 1.1 million trips were facilitated by the toll-free policy during the holiday, and highways in the province were even busier than during the Spring Festival travel peak, authorities said.
Cars swarming highways in Hubei province brought a torrent of tourists. In the Wudang Mountains, well known for its Taoist monasteries and kung fu traditions, more than 6,300 private cars arrived there on toll highways on Tuesday, 70 percent more than in the corresponding period last year, the provincial tourism authority said.
zhaolei@chinadaily.com.cn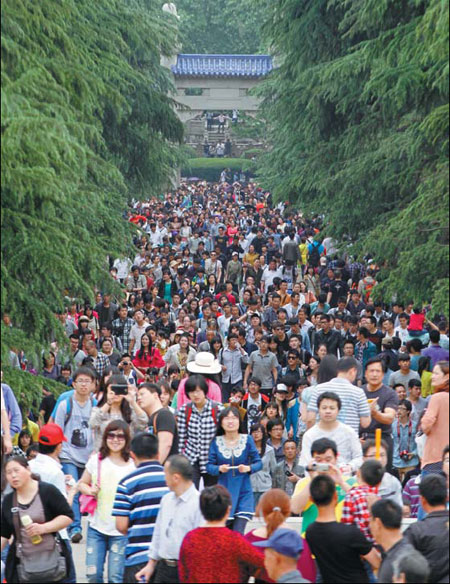 Tourists flock to the Sun Yat-sen Mausoleum in Nanjing during the May Day holilday.
(China Daily 05/03/2013 page3)