Wudang welcomes tourists for Taoist celebration
By Xin Wen ( chinadaily.com.cn )
Updated: 2013-04-23
April 13 (the third day of the third lunar month) is the birthday of Zhenwu Dadi, a Taoist god. Over 20,000 believers from all over the world came to climb the mountains, ramble the temple fairs, burn incense and worship the gods in Wudang.
Zhenwu Dadi, also known as Xuantian Shangdi (Dark or Mysterious Heavenly Upper Emperor or God), is the Martial Grand Emperor of the Wudang Mountains. Since the Song Dynasty (AD 420-479), Taoists in Wudang have held religious rites here. The adherents climb to the supreme point of the Wudang Mountains, the Golden Peak, to worship and consecrate the statue of Zhenwu Dadi. The Taoism festival has developed into a folk culture activity combined with "climbing the mountain, enjoying the green yards and viewing the folk customs".
During the festival, Wudang kung fu and tea shows are featured in some large scenic spots, displaying Taoism culture.
As the most important Taoism festival in the year, the Wudang Mountains expected a high number of tourists. To respect pilgrim's customs of burning incense early (for good luck), ticket sales started at 5 am in the morning. One-hundred scenic buses worked together to transport tourists to different spots. Specially-assigned people were arranged to divert tourists to ensure an unobstructed route.
To reduce traffic, the Wudang Mountains split up tourists seeking to worship at Golden Peak, providing two ways to reach the peak, via foot or trolley. Meanwhile, the scenic administration limited the number of people heading towards the peak and took measures to limit guests at any given time. The measures helped avoid personal accidents in the limited space around Golden Peak.
Tourists on April 13 mainly came from surrounding cities outside Wudang, including Wuhan, Yichang and the neighboring areas of Henan province. At the same time, tourists from Guangzhou, Chongqing, Jiangxi, Beijing and foreign countries increased significantly. Visitors benefited from the railway reaching the Wudang Mountains. The well-preserved Ming Dynasty (1368-1644) architecture complex and beautiful natural scenery are major attractions for tourists.
Handling over 20,000 tourists is quite common for the Wudang Mountains. In the last two years, the Wudang Mountains has increased its capacity. Multiple star–rated hotels and business hotels can hold 8,000 tourists at one time, and the large environmentally-friendly parking lot also provides convenience for self-driving tourists.
According to the Wudang administration, they restraints the products' prices in the scenic spot to prevent peddlers forcing up price, trying to make every tourist satisfied.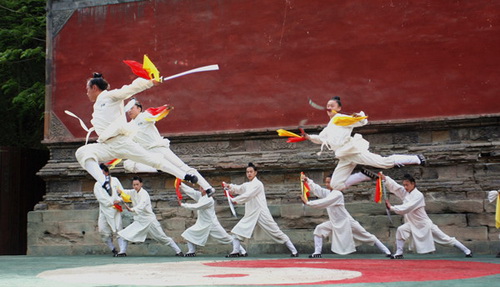 The Wudang kung fu show (Photo provided to China Daily)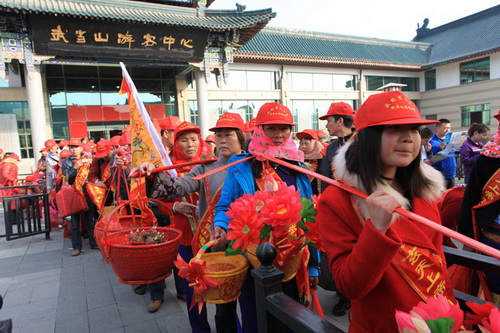 Pilgrims assemble in the Wudang Mountains.(Photo provided to China Daily)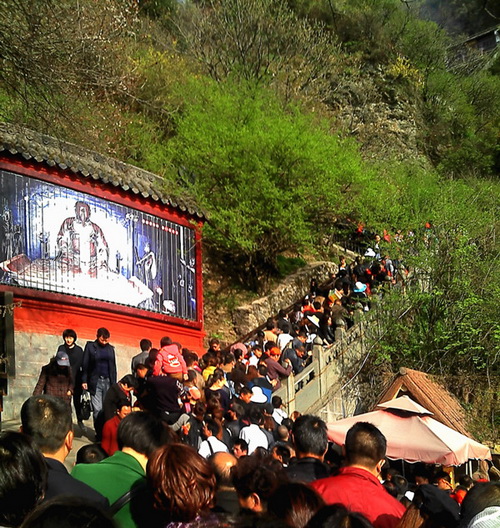 Hundreds of tourists climb to Golden Peak(Photo provided to China Daily)