Wudang welcomes tourists for Tomb-Sweeping holiday
( chinadaily.com.cn )
Updated: 2013-04-12
During the Qingming Festival holiday (April 4 to 6), many tourists visited the Wudang Mountains. Taizi Slope (Prince Slope) attracted hundreds of travelers with its beautiful environment and famous reputation for bringing good luck to students.
The elegant environment of Taizi Slope has benefited from the cultivation of the botanic garden. Built in 2001, the garden houses many rare plants, such as Osmanthus fragrans, cedar and ginkgo. Now is a good time to tour Taizi Slope because of the flourishing and dense trees.
In legend, Taizi Slope is the place where Xuanwu, the higher divinity of Wudang, tried to make pills of immortality. Xuanwu was originally a prince of Jing Le State in ancient times. As he grew older, he felt the miseries of ordinary people and went to Wudang to study Taoism.
However, he couldn't resist temptation and decided to return home. On the way, he came across and was enlightened by the Yuan divinity (Xuanwu's teacher). Xuanwu realized he needed to work hard and cultivate himself without distractions. Finally, he became the Truly Martial Grand Emperor of Taoism.
Thanks to the legend, Taizi Slope has become a place to educate students to study hard. It is also a promising place where parents pray for their children to have academic success in the future.
During the holiday, many parents bring their children to Taizi Slope in the spring and to teach them about Xuanwu. According to the survey, roughly 20,000 students come to Taizi Slope in this holiday.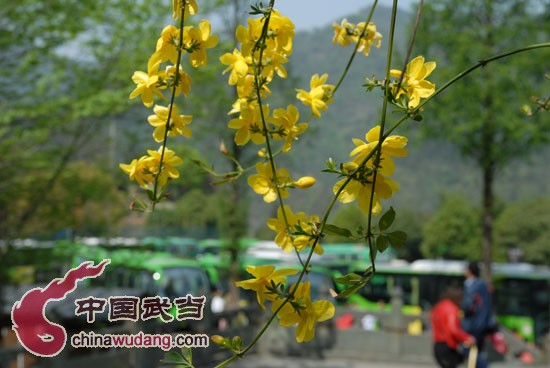 Wudang welcomes tourists for Tomb-Sweeping holiday