Foreign twin sisters learn Wudang kung fu
By Han Shuya ( chinadaily.com.cn )
Updated: 2013-03-14
Twin sisters from Canada, Brandy and Melonie, came to the Wudang Mountains to study Wudang kung fu for over three years after watching the film The Karate Kid.
The mysterious and elegant Wudang kung fu performed by Jackie Chan in the film has aroused a lot of foreigner interest. Some even came to Wudang to learn more about it.
The twins learned kung fu from Yuan Xiugang, a 15th-generation disciple of the Sanfeng School in Wudang. Yuan opened a kung fu school next to Yuxu Palace on the Wudang Mountains and has received more than 20 foreign students.
It was the second time the elder sister Brandy has come here to study. In 2008, she came to Yuan Xiugang for the first time at the invitation of her friends and studied kung fu for four months. After she went back to Canada, her friends and relatives were all interested in her experience, so she took her twin sister Melonie to Wudang again in September 2009.
They learned kung fu at school every day except Christmas over the course of three years. They got up at dawn and practiced techniques during the day. At night, they would do seated meditation. What attracted them most was Wudang tai chi shadowboxing.
Brandy said she became much healthier after practicing tai chi shadowing. What surprised her was how she has been able to avoid fever and cold since her training. The sisters plan to open a kung fu school in Canada after their five-year studies to spread the martial art into Canada. They hope to be ambassadors for Chinese and foreign culture exchange.
According to Yuan Xiugang, over 300 foreigners have come to learn Wudang kung fu since the school opened to the public. One of them has studied here for more than six years. He hoped more and more foreigners could come to learn kung fu to further promote Wudang kung fu around the world.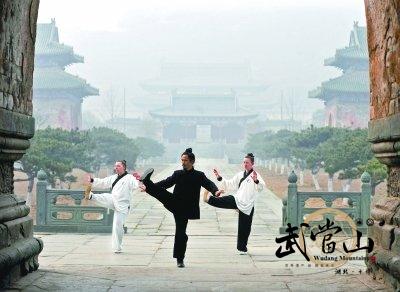 Yuan guides Brandy (right) and Melonie (left) in the practice of Wudang tai chi shadowboxing.