Natural gas sparks emission hopes
By Han Tianyang ( China Daily )
Updated: 2013-03-11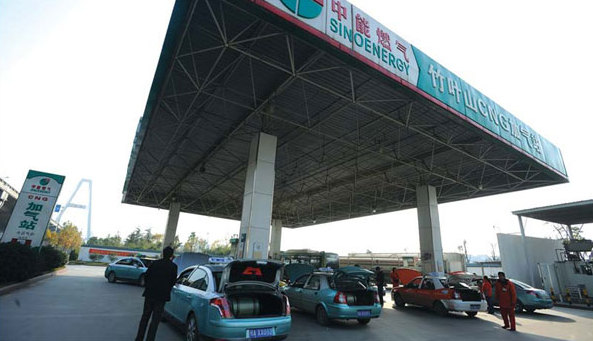 Taxi fleet line up for natural gas at a fueling station in Wuhan, Hubei province last December. More cars in China are converting to natural gas, yet current market conditions are a barrier to widespread use. Chen Liang / For China Daily
But bottlenecks in availability and fueling station scarcity
Responding to rising fuel prices and pollution, more cars in China are converting to natural gas, yet current market conditions are a barrier to widespread use.
Last month in Hefei, capital of Anhui province, the local traffic administration held a lottery to select 3,000 cars - mostly privately owned - from more than 6,000 owners who want to use natural gas as an alternative fuel.
According to local media reports, the retrofit will be done by four authorized companies, with each car requiring about four hours of work at a cost of 4,000 to 6,000 yuan.
It is the first time Hefei has allowed private car owners to add equipment including a natural gas tank to their conventional vehicle to run on dual fuels. The local government said it plans to offer further quotas this year pending the results of the first batch.
Starting next month, car owners in Shaanxi province will also get the green light to covert their vehicles.
Cost is the biggest motivation to covert to gas, analysts said.
On Feb 25, pump prices were raised for the first time this year as gasoline went up 300 yuan per ton and diesel increased 290 yuan. In many cities, it means that the gasoline is back above 8 yuan a liter.
In comparison, the price for natural gas is between 2 to 4 yuan per cubic meter in most parts of China. The same mileage fueled by natural gas costs less than half that of gasoline.
Despite the pioneering efforts in Anhui and Shaanxi, conversion of private cars is not permitted in many other places in China. But taxis and buses started using natural gas much earlier and are now common in some cities.
According to Chinese media reports, more than 90 percent of the taxis in Wuhan, Hubei province now use natural gas. In Changsha, Hunan province, a third of the buses and half of the taxis are running on the cleaner fuel. It takes only a few months for the taxis to cover the initial costs of conversion.
Pressure to cut
Under pressure to cut emissions, many local governments are also encouraging use of alternative fuels in public transportation.
"It doesn't require complex techniques or high costs to convert vehicles, but it has an immediate effect in reducing emissions," said John Zeng, director of LMC Automotive Asia Pacific Forecasting.
Natural gas has about the same emissions as China V standard gasoline, so in practice it is a cleaner energy than the poor quality gasoline and diesel used in many parts of the country, said Huang Fanqing, an analyst with consultancy IHS Automotive.
"But a common problem with converted cars is that they may lose efficiency and power when using gasoline," Huang said, adding that dual-fuel cars made by manufacturers have precise adjustments in the fuel system control and perform better than those converted by local shops.
Geely is among a few domestic carmakers that make gasoline-natural gas vehicles. Its spokesman Yang Xueliang said that the company has dual-fuel versions of the Emgrand EC 7 and Gleagle Yuanjing. The majority of sales are from corporate buyers such as taxi companies.
"These cars generally cost 6,000 or 7,000 yuan more than conventional versions," Yang said. "Production is based on orders and we don't have them at the showrooms."
It is unclear how many natural gas vehicles - including converted cars - are on the roads in China, but some estimates put the number around 1.5 million.
'Limited potential'
Analysts said that natural gas vehicles have only "limited potential" in China, especially in the consumer market, due to inadequate gas supplies and fueling stations.
They note that the vehicles are viable in locales close to gas fields or pipelines.
"It is unlikely natural gas vehicles would be used on a large scale in big cities like Beijing and Shanghai where the priority use of natural gas supplies is households," Zeng with LMC Automotive said.
According to a recent Associated Press report, natural gas is making inroads in the US as a transportation fuel, particularly for trucks, buses and taxis. Sales are also gaining ground in the consumer market, but the vehicles are still expected to account for less than 1 percent of the auto market in the next few years.
"At the end of the day, natural gas is still a conventional energy - it's a fossil fuel and can't be compared with electric cars where electricity could be generated by renewable sources like water, sunlight and wind," Zeng said.
hantianyang@chinadaily.com.cn
(China Daily 03/11/2013 page22)