Taichi Lake Theater
( chinadaily.com.cn )
Updated: 2013-01-08
Taichi Lake Theater is located in the Taichi Lake Zoology and Culture Tourism Area. It was designed by the Central South Architectural Design Institute and has a gross building area of 20,500 square meters. It has a performance hall spanning over 4,000 sq m that can hold 1,000 guests.
Shaped like the eight trigrams, a traditional Taoist concept, with the main building and affiliated buildings combined together, the theater conveys the cultural concepts of Taoism. The dance drama All the Taichi Arts Sourced from Wudang, directed by Chen Weiya, vice-director of the Beijing Olympic Games opening and closing ceremonies, will perform here regularly.
The top 10 engineering projects in 2012, celebrating 600 years of history mass construction in the Wudang Mountains.The Top 10 Projects of the Wudang Mountains, including The Restoration of the Yuxu Palace Main Hall, were completed in 2012. The projects were financed with over 1 billion yuan ($161 million).
In 1412, Emperor Yongle of the Ming Dynasty (1368 – 1644) launched two large projects characterized as "building the Forbidden City in the north and building Wudang in the south". Wudang welcomed another golden period of development in 2012, marking 600 years of construction and growth.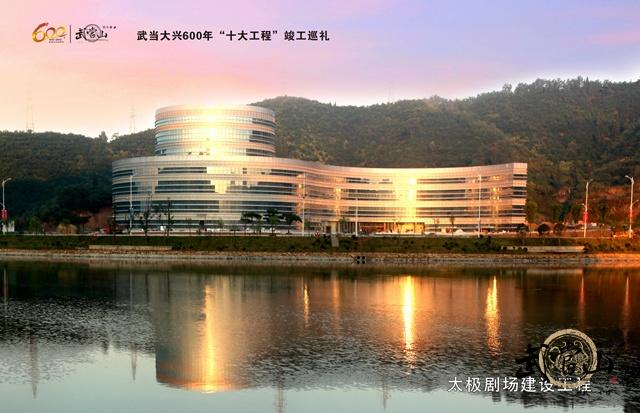 Taichi Lake Theater