Wudang kungfu schools
( chinadaily.com.cn )
Updated: 2011-07-11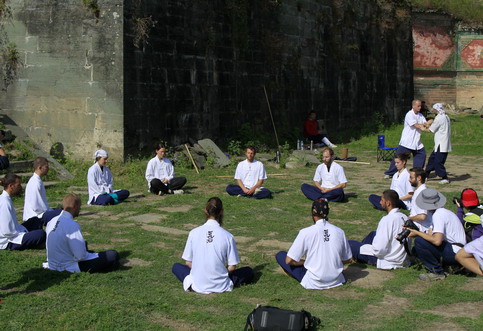 Practicing kungfu at Wulong Palace (Photy by Zheng Wei)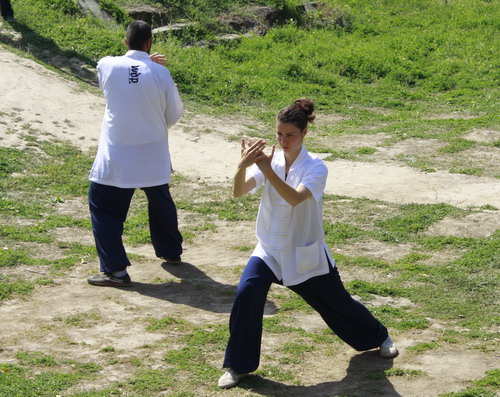 Practicing kungfu at Wulong Palace (Photy by Zheng Wei)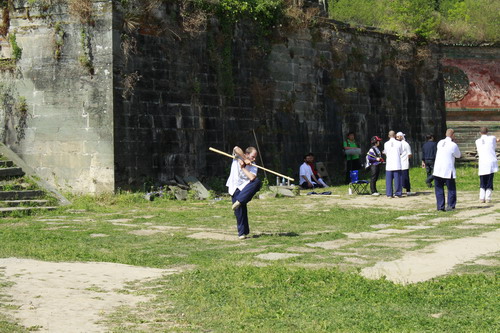 Practicing kungfu at Wulong Palace (Photy by Zheng Wei)
Wuduang kungfu is connected with Taoism, which emphasizes cultivating a regimen that helps prolong life.
By continuing to exercise with Wudang kungfu and respect martial arts teachings, one can develop one's potential and wisdom and be more strong-minded, healthy, able to resist disease, and prolong life.
The kungfu at Wudang has the following styles: Wudang taiji boxing, form-and-will boxing, eight-diagram palm, Wudang taiyi five-element boxing, simplified Wudang boxing, Wudang taiyi peripatetic palm, Wudang sword, Wudang taiyi whisk, Wudang xuanwu cudgel, Wudang sword of the eight drunken immortals, and the nine directions eighteen-elbow, among others.
The teaching method is one teacher, one student. All of the instructors or coaches here are disciples of Wudang taoism or famous kungfu instructor who have accomplished a lot in kungfu teachings and skills.
Fans and followers of kungfu from around the world are all welcome to train here.
Three kungfu schools
If you want to experience the mysteries of Wudang martial arts, here are three schools we recommend.
1. China Wudang Kungfu Academy
This academy, established by Master Chen Shixing, is in the holy site of Martial Arts-- Yuanhe Temple. Master Chen's life-long dream has been to create a truly great kungfu academy, so he carefully selected the Yuanhe Temple.
It's a fantastic place to learn, or practice this traditional Wushu form. The tranquility and beauty of Wudang Mountain and the rolling hills covered with orange trees are a good place to keep you healthy and put yourself in good spirits.
It covers an 8,000-square-meter area, with more than 50 rooms equipped with heating, air conditioning, and the Internet to make your stay more comfortable. We do our best to let our students experience true kungfu, and the beautiful surroundings bring you closer to Taoist culture.
2. San Feng Academy
This academy sits at the foot of Wudang Mountain and has mountains on three sides providing a good geomantic spirit. The environment is serene and beautiful and has a temperate climate, making it the perfect place for martial arts and a nourishing life for continued health, suitable for both practitioners and ascetics.
Master Zhong, a 14th generation descendent in the Wudang Sanfeng Sect, founded the academy to bring people from around the world together to promote peace and health through martial arts.
3. Wudang Daoist Traditional Internal Kungfu Academy
This academy, established in 2004, sits alongside Yuxu Palace, in the Wudang Tourist Economic Special Zone.
It covers a 12,000-square-meter area and has 45 Chinese students and 46 foreign students.
Its founder, Yuan Shimao, is a 15th generation descendent in the Wudang Sanfeng Sect.
Recommended Wudang kungfu teachers
Yang Qunli
Zhao Shouli
Yuan Limin
Su Qingmei
Tan Dajiang
Liu Deyi
Wang Zhaohui
You Mingsheng
Yue Wu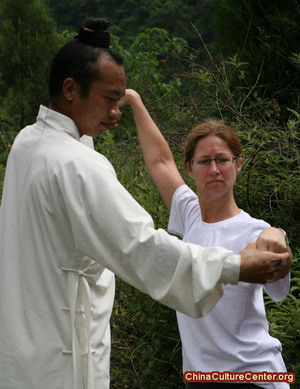 Teaching kungfu at San Feng Academy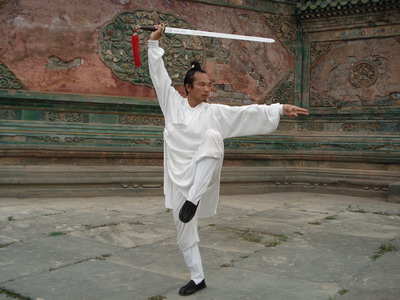 Practicing kungfu at San Feng Academy