Mount Tai's king of clay
(chinadaily.com.cn) Updated: 2017-02-16
When most people come across a patch of mud as they climb up Shandong province's Mount Tai, all they see is mud. But to Xuan Xudong, that clod of earth represents a kaleidoscope of artistic possibilities.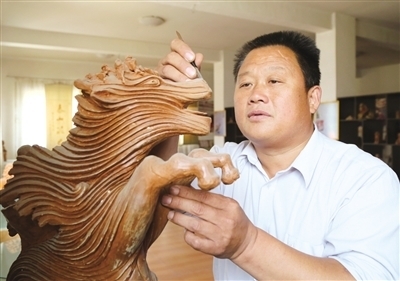 Xuan Xudong works on a Mount Tai clay sculpture. [Photo by Wang Wenzheng/tarb.cc]
Xuan has spent his entire life transforming the clay soil of China's sacred mountain into exquisite sculptures. In his delicate, dirt-stained hands, a lump of earth can become a majestic lion, a soaring dragon or a thousand other lifelike figures.
The Shandong native has clay sculpting in his bones. His father taught him his craft at an early age, and he is the fifth generation in his family to devote himself to the ancient local art form.
Over the years, Xuan has not only become a highly talented sculptor, but also an expert on local soil composition. He is very fastidious about the clay he uses, he says, and he has scoured the countryside around Tai'an, the city bordering Mount Tai, to find the perfect material for his art.