Great leaps in every direction
By Chen Nan (China Daily) Updated: 2016-07-28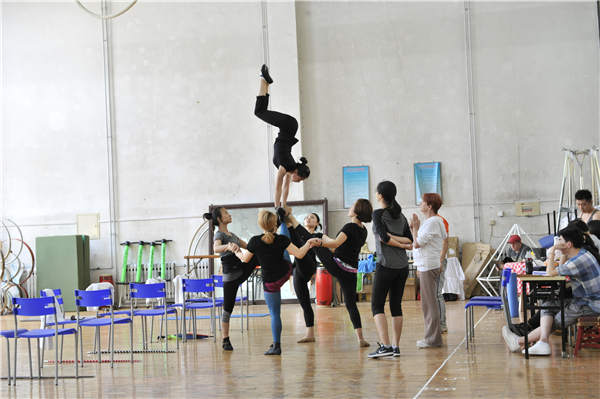 [Photo provided to China Daily]
Born in Jinan and studying acrobatics since she was 10, Meng has performed in Dralion, a touring production by Cirque du Soleil, since 2010.
"It's quite a challenge to perform in a Western production. In Chinese acrobatic shows, we focus on our moves but in the Western production, we portray the roles with emotions and interact with the audiences," says Meng.
Marc Routh, co-founder of Broadway Asia Company and a four-time Tony Award-winning producer, says: "Chinese acrobats are some of the hardest-working performers in the world. They train from a very young age and yet are very willing and excited to take on the additional challenges that this show requires."
As the producer of China Goes Pop!, he says that his company has been working in Asia for 20 years - bringing shows to Asia, creating shows specifically for the Asian market, and creating Asian shows to export to the world market.
"We have been working on the show (China Goes Pop!) for 18 months. The performers have trained to add dance, acting and physical comedy skills to their acrobatic skills, which have been developed both during our rehearsal and workshop periods and during the time between these rehearsals," he says.
Routh also says that by adding elements of Broadway-style storytelling as well as dance, martial arts, and physical comedy and refreshing them with contemporary pop music and exciting visuals, his team hopes to succeed in putting a spotlight on acrobatics that will appeal to a younger audience worldwide.
Contact the writer at chennan@chinadaily.com.cn
If you go
7:30pm, Aug 5 to 7. Tianqiao Performing Arts Center, 9 Tianqiao South Street, Xicheng district, Beijing. 400-635-3355