Great leaps in every direction
By Chen Nan (China Daily) Updated: 2016-07-28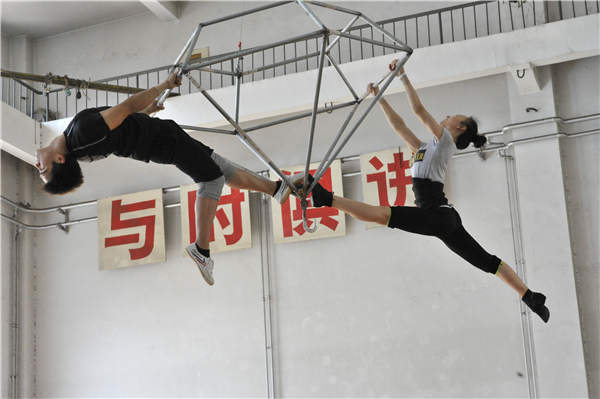 Performers rehearse for China Goes Pop!, the latest production by Shandong Acrobatic Troupe.
The show will make its debut in Beijing's Tianqiao Performing Arts Center over Aug 5-7.
The Shandong troupe was founded in 1959. Based in Jinan, it has won three top Golden Clown awards at the International Circus Festival of Monte Carlo.
With around 150 performers, the troupe is one of the top five among China's nearly 200 professional acrobatic troupes. Since 2008, it has been collaborating with Western performing arts companies, such as the established Montreal company Cirque du Soleil.
In 2012, nine performers of the troupe performed at the Kodak Theater during the Academy Awards for the first time. Last December, the troupe staged a traditional Chinese drum dance acrobatic performance in Johannesburg as part of the closing ceremony of the "Year of China" in South Africa.
"Chinese acrobatic shows put an emphasis on agility, power and balance. We maintain our tradition while learning that storytelling and the portrayal of roles are also crucial to attract audiences besides colorful acrobatics and gravity-defying stunts," says Yao.
China Goes Pop! tells the story of a heartbroken young talented artist and his pursuit of true love.
Besides practicing traditional Chinese acrobatic acts, such as contortions and cycling, 11 actors from the troupe dance and perform in Broadway style.
Meng Yan, a 29-year-old performer of the troupe, plays the second female lead in the show.