Li Jiheng meets Czech presidential advisor
By Zhao Xiao (chinadaily.com.cn)
Updated: 2017-02-23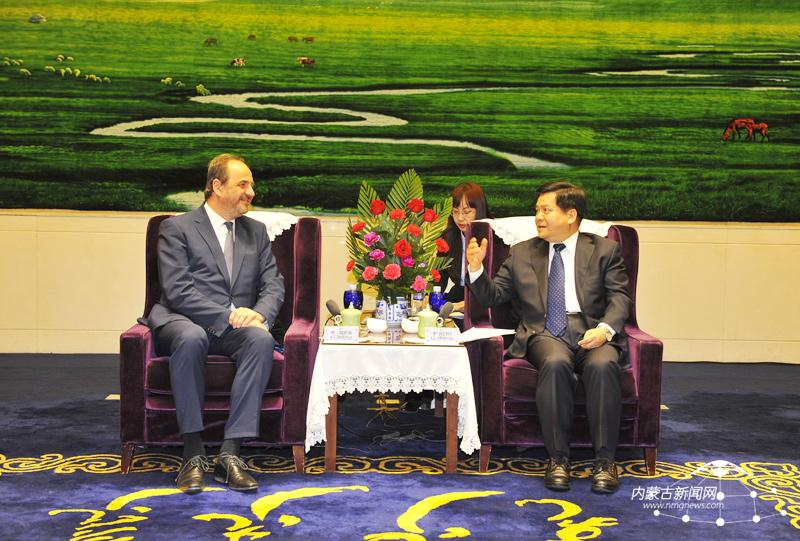 Jan Kohout (left) an advisor to Czech President Milos Zeman is received by Li Jiheng (right), secretary of Inner Mongolia Party Committee, in Hohhot on Feb 22. [Photo/nmgnews.com.cn]
Li Jiheng, secretary of the Inner Mongolia Party Committee, met with an advisor to Czech President Milos Zeman –– Jan Kohout in Hohhot on Feb 22.
Li Jiheng conveyed his greetings to Kohout and introduced the current economic and social climate of Inner Mongolia.
Li expressed that under the leadership of China's central government, Inner Mongolia has been earnestly implementing national development strategies, including the Belt and Road Initiative.
According to Li, in recent years, Inner Mongolia has made great efforts to promote the development of clean energy, modernized the coal chemical industry, nonferrous metal production and processing, organic food and livestock products, along with tourism.
Famed for high-tech industries, the Czech Republic keeps pace with world-leading advanced technologies, including in automobiles, biotechnological engineering, aviation, environmental protection, and technological innovation.
The Inner Mongolia government hopes to strategically cooperate with the Czech Republic in various fields.
And the government will firmly support experts and businesspeople from the Czech Republic with preferential policies and create a better investment environment, according to Li.
Jan Kohout expressed his appreciation for the warm welcome by the local provincial officials, and praised Li Jiheng and his all-inclusive analysis of the current situation in Inner Mongolia.
The Czech Republic is a crucial part of Central and Eastern Europe, and the economic belt along the ancient Silk Road. It's no doubt that China has been building partnerships with many countries in Central and Eastern Europe over the past few years, Kohout claimed.
In recent days, China's Belt and Road Initiative –– the Silk Road Economic Belt and 21st Century Maritime Silk Road –– has received several enthusiastic boosts from European countries.
Inner Mongolia possesses plentiful resources, broad markets and great prospects, and the Czech Republic hopes to cooperate with Inner Mongolia in the near future, according to Kohout.
He also expressed enthusiasm on collaborations in the sectors of aviation, logistics, automobile production and education.