Past the greenest pastures
By Yang Feiyue/Erik Nilsson (China Daily)
Updated: 2016-06-08
Summertime is prime time to explore Inner Mongolia's vast grasslands since they're their most verdant. But the region offers more than pretty prairies. Yang Feiyue and Erik Nilsson look at its other colors.
Summertime paints much the Inner Mongolia autonomous region its true hue - green - in its greatest array of shades.
But there's more to the palette that colors the region during the season, such as blanched deserts and cerulean lakes.
That's not to mention human elements that tint its cultural tapestry, such as archery, horse racing and wrestling.
The autonomous region's topography is crumpled to conjure mountains. In some spots, Earth's crust is torn to make volcanoes bleed to shape scabs and scars on our planet's skin.
Hulun Buir's grassland is among the country's best preserved and is best to visit between June and September.
Travelers ride horses on grasslands or fish on their rivers. They boat on Hulun Lake.
Erdos' Xiangshawan offers deserts sprinkled with oases, where Mongolian culture thrives.
The Tengger Desert is China's fourth biggest of its kind. Hundreds of lakes reflect its thousands of dunes.
Mongolian scotch pines prickle Hailar's national forest.
Tourism authorities are working to let people know that, while the region has become synonymous with grasslands, it offers much more.
"We're launching the 'prairie-plus' development strategy to offer multiple experiences and change stereotypes about Inner Mongolia," says Wei Guonan, director of the region's tourism authority.
They've developed driving routes and products with such themes as folk customs.
A road-trip itinerary that traces the region's north from Hulun Buir to Alxa connects Inner Mongolia's main attractions.
"Vast views make driving the best way to discover the region," Wei says.
"The route is the longest of its kind. It connects deserts, prairies, lakes, rivers and mountains. It links superb natural and cultural elements."
Routes that require three to five days have also been developed.

Six campsites will open this month along the 500-kilometer "Khorchin culture avenue".
Another traces the warpath of Genghis Khan (1162-1227).
It covers Xanadu, the fabled summer palace of Genghis Khan's grandson and the Yuan Dynasty's (1271-1368) founder, Kublai Khan. It tacks on the Hinggan League and Erdos - a Mongolian border city built on one of China's most important dinosaur fossil-excavation sites.
An eco tour across Hulun Buir, Manzhouli and Arxan Mountain offers grasslands, wetlands, water and Russian culture.
Visitors can engage Mongolian tribes, explore the Argun River and experience Russian influences at Shiwei town, Inner Mongolia's northernmost point.
A Xilingol and Chifeng tour features Mongolian tribes and historical sites - plus grasslands.
Another tour across Erdos, Bayannur, Wuhai and Alxa features prairies plus the Yellow River, red-sandstone formations and deserts.
Hulun Buir will host a Mongolian music festival on the grassland on June 16.
Cities will also stage Nadam activities, including the autonomous region's capital, Hohhot, which will also host an art festival dedicated to Mongolian attire.
The Mongolian Nadam festival features three feats - wrestling, archery and horse racing.
Family tours offer chances for parents and children to bond while milking cows and shaping sand sculptures.
Routes for the elderly offer blood-glucose and fat monitoring while visiting Yulong Sand Lake and practicing tai chi.
Really.
Ma Hui hopes to return this summer after enjoying her visit last July.
The Beijinger plans to drive across the vast Hulun Buir grasslands.
"I saw some of my friends' photos," she says.
"They were just beautiful. I'd like to enjoy the views and experience Nadam.
"Inner Mongolia looks its best in summer."
Plus, its clement climate offers respite from boiling Beijing.
Ma enjoyed the cooler weather while exploring Gonger's grassland and Chifeng city's Yulong Sand Lake, set in tremendous terrains studded with yurts and livestock.
She joined a bonfire party with toasts, songs and dances.
"People were hospitable," she says.
"It was relaxing to see the stars over the prairie."
And it's exciting to see what sunrises promise - plus deliver.
That is, beyond the grasslands.
Contact the writers through yangfeiyue@chinadaily.com.cn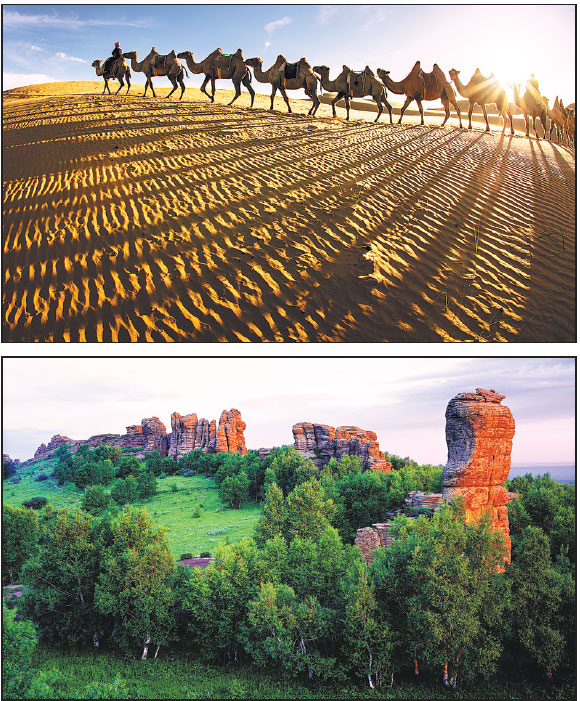 From top: Ethnic Mongolians herd horses on Xilingol's grasslands. A camel caravan trots over the Xiangshawan (Sounding Sand) Desert in Erdos. The stone forest in the Ashihatu Geological Park in Chifeng. Photos Provided To China Daily
(China Daily 06/08/2016 page19)