Traditional medicine provides new point of cross-border cooperation
By Yuan Hui (China Daily)
Updated: 2015-10-21
Traditional Mongolian medicine, TMM for short, has become a new point of cross-border cooperation between China and Mongolia.
After an agreement was signed in Hohhot, the capital of the Inner Mongolia autonomous region, in April, medical practitioners from Mongolia now have the chance to attend a training program in China at no charge.
The State-owned Inner Mongolia International Mongolian Hospital based in Hohhot provides free courses to nurture grassroots medical practitioners from the other side of the national border. The hospital has also begun cooperating with Mongolia's Arkhangai province in various fields including scientific research, medical assistance and academic studies.
According to Ulaan, the director of the hospital, 1,200 employees at the hospital can speak both Mandarin and Mongolian, which facilitates service for Mongolian patients. Since the opening of the hospital in 2012, it has received more than 10,000 patients from Mongolia. The hospital also has clinics in Mongolia with experts stationed there long term.
Traditional Mongolian medicine has been practiced for many centuries, but it remains little known outside the Mongolian community. Nevertheless, sometimes it is more efficient in curing patients than orthodox Western medicine, Ulaan said.
For example, Mongolian bone setting was named one of China's national intangible cultural heritages in 2011.
Similar to traditional Chinese medicine, traditional Mongolian medicine also relies on herbal remedies, with prescriptions made into pills rather than the herbal infusions used in TCM.
"There was no province-level TMM hospital in Inner Mongolia before, and the ancient therapies were only preserved on the vast grasslands, some of which cannot be explained by modern science," Ulaan said.
"If there is nobody to inherit the tradition, it will probably be forgotten. Now we have a chance to gather the knowledge."
She estimated that the cost of TMM is generally 40 to 50 percent lower than Western medicine as it relies more on the doctor's experience than sophisticated medical instruments and expensive drugs.
Education is also key to preserving the tradition. About 77 students from Mongolia currently study at the Inner Mongolia Medical University based in Hohhot.
About 1,000 kilometers away, another institution in Inner Mongolia is also devoted to such educational exchanges. In Tongliao, a city to the east of the autonomous region, the Inner Mongolia University for the Nationalities endeavors to spread the healing tradition.
O Ulzii, dean of the TMM College at the university, said 145 students from Mongolia have graduated from the college, with 121 currently studying at the college. The world's first doctoral section of TMM was established in the college.
In the past 20 years, more than 500 medical students from Mongolia have studied at these two universities.
"When the Mongolian ethnic groups from both countries join hands to promote TMM, maybe there will be more space for the tradition," Ulaan said.
yuanhui@chinadaily.com.cn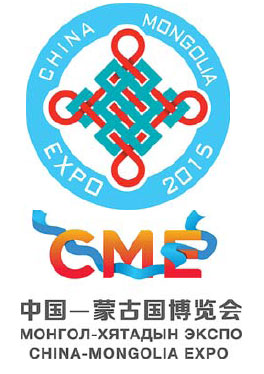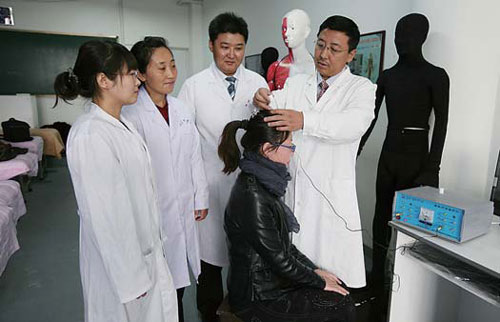 Agula, vice-president of the Inner Mongolia Medical University, treats a patient with a device he invented and has patented. provided to China Daily