Inner Mongolia improves cultural services
By Liao Wei (chinadaily.com.cn)
Updated: 2014-11-24
Under the guidance of the region's "8337" development strategy put forward in 2013, Inner Mongolia has made great efforts in all sectors of society, especially the cultural industry.
The development of culture also benefits the people in the region. The local government worked out a group of policies to provide more public culture services and improve lives with more excellent cultural products.
No admission fee for public cultural facilities
Reading books in libraries in Inner Mongolia is a common hobby for many residents in the autonomous region in North China thanks to the local government's policy on improving cultural service for the entire society.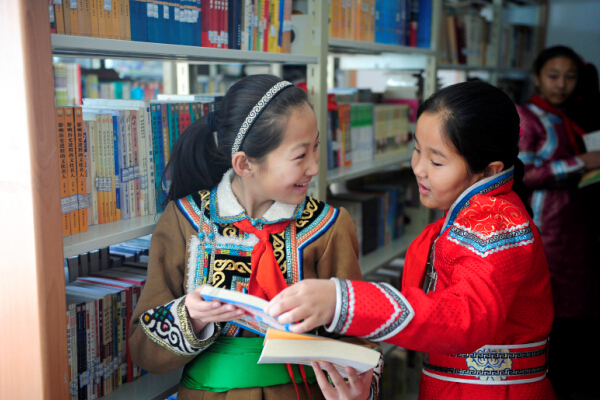 Photo taken on Nov 18, 2014, shows pupils at a library in North China's Inner Mongolia autonomous region. [Photo by Shao Kun/Xinhua]
On weekends, parents bring their children to enjoy the fun of reading in the Inner Mongolia Library in the region's capital, Hohhot.
"I love reading very much, and I often come here to borrow books. I used to pay a little for the library service, then since 2011, it opened to the public for free and attracted more and more readers," said Zhang Chunyan, a citizen of the capital city.
The Inner Mongolia Library also provides a 24-hour self-service in urban areas with large passenger flows. People can borrow and return books as well as make inquiries and reservations on these machines instead of visiting the traditional library.
The region also took the lead among all the provinces in China with a free admission policy for its museums and memorial halls in 2008. The government put forward more policies on admission fees of public cultural facilities, such as museums and libraries.
In addition, these facilities worked out a group of innovative ways to improve their services, such as more wonderful exhibitions, lectures and folk shows.
More non-commercial performances in the region
People in the autonomous region can appreciate performances for free or for a low price during summer and some holidays, including the New Year and Spring Festival.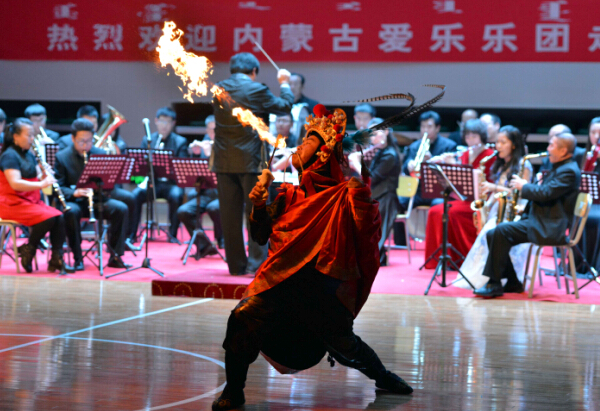 An actor performs face-changing, a stunt technique in Chuanju opera, or Sichuan opera, at a non-commercial concert in Hohhot, capital city of North China's Inner Mongolia autonomous region, on Oct 21, 2014. [Photo by Wang Zheng/Xinhua]
The region organizes local troupes to stage thousands of performances in rural areas and universities. These troupes also take part in all kinds of trade show fairs to promote their productions in China and abroad.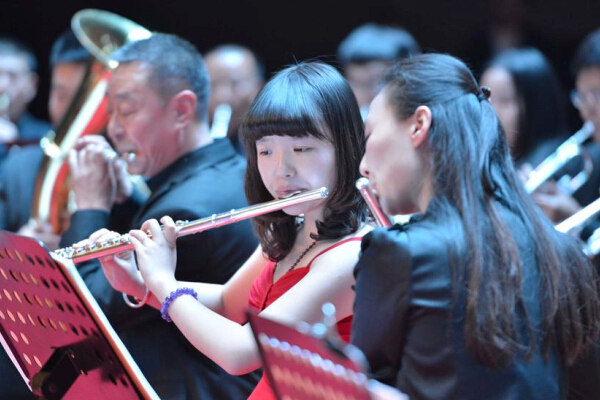 A local private symphony orchestra gives a non-commercial performance in Hohhot University for Nationalities in Inner Mongolia on Oct 21, 2014. [Photo by Wang Zheng/Xinhua]
The "Grand Stage on Weekends", a series of performances held on weekends, is an important part of the Hohhot municipal government's cultural promotion campaign.
Its schedule for each season in 2014 is different. The first season is themed on cross talk. The second is plays for children. The third is Jinju opera and Errentai, two forms of Chinese folk performances that originated in North China, as well as some popular activities, including square dance and body building exercises.
"The hip-hop dance is not only for young people. People can get a better understanding of this vigorous dance through the Grand Stage on Weekends," said Li Xin, a hip hop fan in Hohhot.
The well known Wulanmuqi troupes across the region will also bring their performances to local residents. This year's Wulanmuqi Art Festival, which will stage more than 40 shows, will be held in Tongliao city, according to Tian Yongdong, an official from the region's culture department.
Focus on better cultural services for villagers
In some part of the autonomous region, villagers always organize performances themselves during the slack season.
In Tuyou banner, a place at the east end of Hetao Plain, which was once one of China's "farm belts" along the Yellow River, many villagers can play some traditional musical instruments.
Since 2005, the banner government began to provide villages that stage performances regularly with special funds to buy traditional Chinese musical instruments, including the sihu, yangqin and bamboo flute.
Building more public cultural facilities
In recent years, the Inner Mongolia autonomous region increased investment in public cultural centers for people at grassroots levels, such as villages and towns as well as residential areas in cities.
People in Xing'annanlu, a residence community in Hohhot, can entertain themselves with Peking opera practice and explore the charm of traditional folk culture.
"We have many Peking opera fans in the community, but they used to gather for practice at random venues, now we provide a special room for them to gather in our culture center every Tuesday and Thursday," said Gao Liying, Party chief in the community.
Some communities also have facilities for sports, such as table tennis. Senior residents always take a rest or play mahjong in the culture center.
Providing easier access to movies for farmers and herders
There are more than 1,000 mobile digital movie players in the region's rural areas. During the National Movie Week of the 11th session of the China - Inner Mongolia Grassland Culture Festival, Inner Mongolia Xinghe Cinema cooperated with the Nationalities Cinema to offer more film screening services across the region.
"The construction of cinemas lays a solid foundation for the prosperity of the Inner Mongolia autonomous region's film industry. In 2010, we founded cinema companies for people in rural areas to meet market demand," said Zang Zhijun, a person in charge of Inner Mongolia Film Group.
The region has a total of 96 screens in 40 cinemas, and by the first half of 2014, the Nationalities Cinemas' box office reached nearly 10 million yuan ($1.6 million) for the first half of 2014, according to Bo Jianxin, a manager of the Nationalities Cinemas.
The cinemas will strive to build several "aircraft carriers" in the screening industry in the near future, Bo added.