Inner Mongolia promotes cashmere brand in Edinburgh
(Chinadaily.com.cn)
Updated: 2014-08-01
The brand 1436 was invited to the 2014 Edinburgh International Fashion Festival from July 17 to 25. A total of 50 genuine cashmere masterpieces were specially designed for the event.
The opening show was a presentation of the exquisite cashmere technique that has been developed over hundreds of years and was inspired by the fusion of two cultures: the original home of cashmere, Northern China's Inner Mongolia autonomous region, and Scotland, known as the home of textile industry.
Trade between China and Scotland began over 200 years ago when cashmere was brought into Scotland. As time passed, cashmere processing became a tradition. Now China has the largest output of cashmere in the world, the finest of which is produced in Inner Mongolia. With its time-honoured craftsmanship and advanced modern industrial technology, China vows to push cashmere technology forward alongside Scotland.
The works displayed at the show were designed by the creative director of 1436, Graeme Black, a Scottish designer who combines traditional techniques of China and Scotland with the latest technology and rich materials.
1436 is a brand of the Erdos Group, a giant in the world's cashmere processing and production industries. 1436 stands for the specification of the finest cashmere, averaging less than 14.5 micrometers in thickness and over 36 millimetres. It is the only brand that specializes in baby-goat cashmere products, the cashmere having been collected from 12- to 16-month-old baby Arbas goats, a kind of goat from the grasslands in Inner Monglia.
The 2014 Edinburgh International Fashion Festival was celebrated in National Museum of Scotland.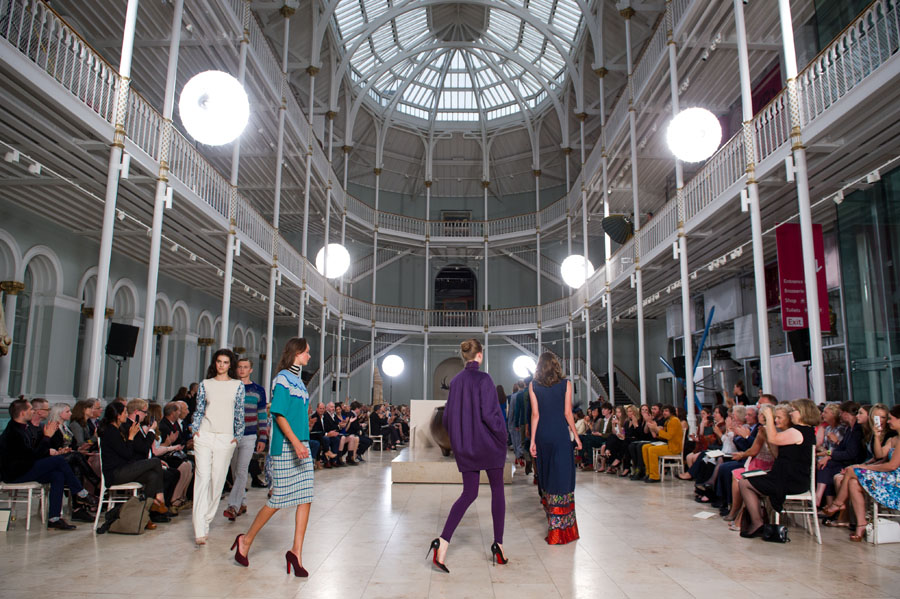 1436 kicks off the Edinburgh International Fashion Festival in the National Museum of Scotland. [Photo provided to China Daily by 1436]