Premier Li urges sustainable development, better livelihood
(Xinhua)
Updated: 2014-05-25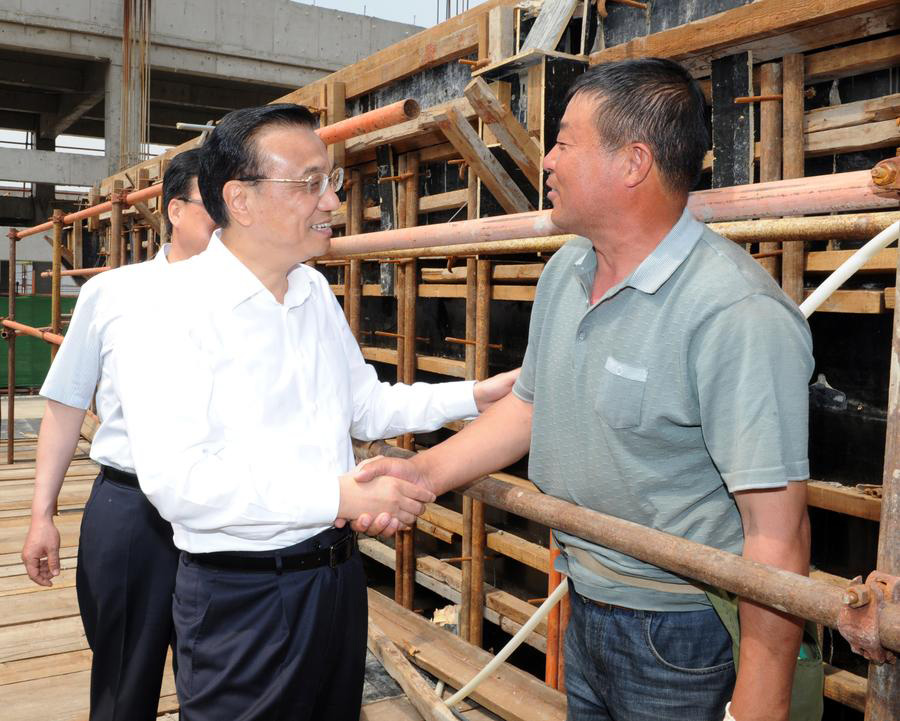 Premier Li Keqiang (C) talks with a migrant worker at Derun Drainage Co Ltd. in Chifeng city, North China's Inner Mongolia autonomous region, May 22, 2014. Li paid an inspection tour to Chifeng city on Thursday and Friday. [Photo/Xinhua]
BEIJING - Premier Li Keqiang said the country should continue pushing forward sustainable development and improving people's livelihood.
Li made the remarks during his inspection tour to Chifeng in Inner Mongolia autonomous region from Thursday to Friday.
He said the central and western regions have huge potentials for economic expansion, and Inner Mongolia plays a crucial role as an energy base and ecological zone in urbanization, structural upgrade and low-carbon development.
Li visited a local sewage disposal plant and said that better city views are only the "appearance" while the "core work" of urban development is still weak in infrastructure like sewage and garbage disposal, especially underground pipe networks.
More social funds with a new investment model should be enhanced to overcome such weaknesses, the premier said.
He praised vocational training while visiting a technical college, saying that economic structural upgrade needs more talents, and reforms have to benefit vocational education and increase employment.
Li stressed faster pace of clean energy industry with more independent technologies and brands, during a visit to the local base of a large state-owned power technology corporation.
He warned of the existing economic downturn pressure and demanded local governments stick to the target of stabilizing growth, promoting reforms, readjusting structure and improving people's livelihood, during a meeting attended by local officials of banks and industries.
Policies should be adapted to the problems in capital shortage, especially the financing difficulty in small and micro enterprises, Li said.
Financial institutions should innovate services to fuel the real economy, and enterprises also need to explore competition, the premier said.
Meanwhile, Li highlighted the power of traditional culture and its contribution to the country, as well as urging stronger cultural protection and public cultural services.