However, as the embroidery and needlework brings in little money compared with the part-time jobs available in neighboring provinces, many girls are reluctant to learn the traditional Miao embroidery.
Li says the federation is encouraging the handicraft to keep the traditions and history of the ethnic group alive.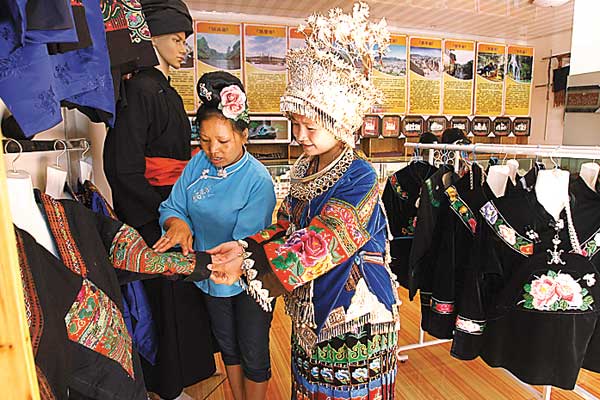 Miao woman Yu Xiaoye (right) shows off the handmade traditional costumes at a small shop in Kaili, Guizhou province.
"We have set up two classes a week on folk culture in the schools in the Qiandongnan prefecture, including horsetail embroidery skills, silverware, batik fabric and traditional costumes, in an attempt to make the younger generation aware of their responsibility of inheriting their culture and history," she says.
The federation is also organizing local women from the Qiandongnan prefecture, most of whom are illiterate, to create embroidery for the market.
According to the federation, the large-scale traditional ethnic handicraft industry has attracted more than 150,000 women from the prefecture to take up embroidery as an occupation under more than 200 workshops and enterprises.
The prefecture has come up with some 2,000 brands of ethnic tourism commodities sold home and abroad.
"The Miao women, despite illiteracy, are a major force and inheritor of ethnic handcraft industries. The recent boom in tourism is believed to further help protect folk arts with increasing attention and awareness from locals and tourists," says Li.
The increasing demand for handicrafts from ethnic regions has encouraged younger generations to learn the art, which was once near extinction in the region.
Selling the embroidery pieces as souvenirs has also helped local women increase their income.
The handiwork, which used to be done for pleasure after the days' farming, has brought good fortune to local women in Kaili, with more than 80 percent of the female residents in some villages involved with the trade.
"Some women produce hundreds of embroidery pieces every year, making far more money than farming," says Li
Li says as the embroidery industry matures in marketing and branding, more people have the opportunity to see the delicate work and keep the traditional handicraft alive.
Contact the writer at zhengxin@chinadaily.com.cn.