Exquisite embroidery from the Miao ethnic group is not only beautiful to look at, but a way for the local women to document their lives. This traditional handicraft is enjoying a revival as more people begin to appreciate the delicate work. Zheng Xin reports in Kaili, Guizhou.
She can barely read or write, but 82-year-old Yang Huani of the Miao ethnic group has been keeping a daily record of her routines and moods with a needle for 70 years.
"I sew what I see around me, flowers, trees, birds, butterflies, and wear it when it's done," says the villager from Qiandongnan prefecture of Guizhou province in southwestern China.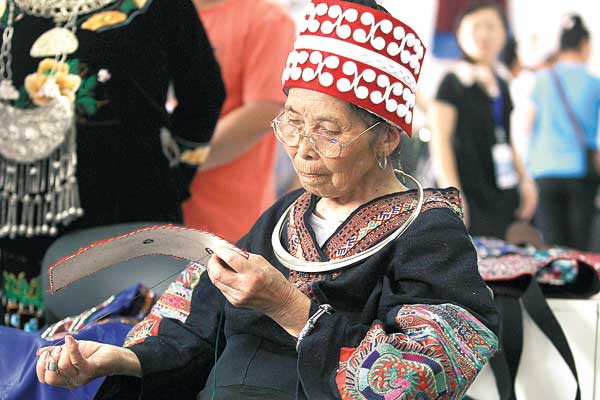 Yang Huani, 82, can hardly read or write but she sews whatever she sees around her. [Zhu Xingxin / China Daily]
"I don't read or write, but the needle is my pen and the blue batik is my paper — that's how I keep a record of my life," she says.
Yang was demonstrating her skills at a competition for embroidery held in Kaili, capital city of the prefecture, which has attracted thousands of women showing off their refined techniques and superb artistry in embroidery.
More than 82 percent of the population in Qiandongnan Miao and Dong autonomous prefecture in southeast Guizhou province are from different ethnic groups, and folk arts like embroidery, batik and silver ornaments — the handicrafts local people use to pass down their cultures and history — have attracted attention from home and abroad in recent years.
Despite her difficulty reading and writing, Yang, the oldest contestant in the competition, easily threads a needle as she sings a folk tune with the other competitors.
Like most girls of the Miao ethnic group, Yang learned the art of embroidery from her mother when she was still a teenager, and passed it on to her daughter to keep the embroidery traditions alive and record their group's history.
Yang says she sews whatever she sees around her, mostly a combination of scenes of nature. Sometimes she depicts scenes from the stories her mother taught her, which is why pictures of dragons appear in her work.
"I have never seen a dragon and I sew whatever I want it to be based on my imagination," she says.
Yang has created thousands of pieces of embroidery, with no repeated images.
"When I see a bird fly, I simply sew it to keep the moment," Yang says. "I've sewed hundreds of birds and each one is different."
Many girls of the Miao ethnic group cannot read or write, and the only method they have to express themselves or keep a record of the day is through stitching cotton thread or horsetail hair on the batik.
Despite the lack of a written language for the ethnic group, the girls are very good at interpreting and giving life to abstract images.
Yang has lived in the village her whole life, except for a brief period when she moved in with her son to a high-rise apartment block in a city. She was there for only two days before she found herself unable to sew and insisted on moving out.
"I see concrete and steel everywhere and don't know what to sew when I pick up a needle," she says. "There is no dog barking or bird crowing. I have to go back."
Most of the embroidery products are made of silk, cotton and horsetail, and a piece of embroidery takes from two hours to several years to finish.
To create a one-hundred-bird embroidered dress, which features hundreds of embroidered birds with ornaments of feather and plume, a girl can spend more than 10 years working on it, she says.
According to Li Mingqun, who works at a local women's federation, despite their illiteracy, the girls of Miao ethnicity convey their history through their exquisite needlework and the delicate embroidery they wear.