News
10 kinds of made-in-China products attracting global attention
Updated: 2016-09-17
( Xinhua/chinadaily.com.cn )
10. Auto industry.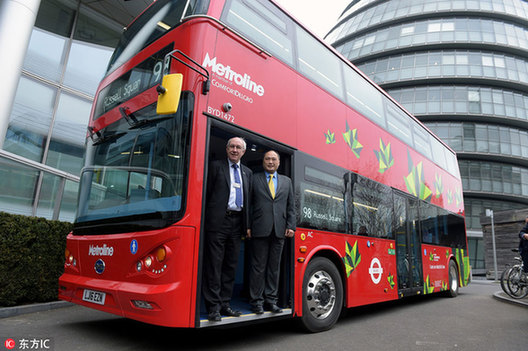 Leon Daniels, CEO of TFL, and Isbrand Ho, Senior Director of BYD, at the unveiling of the world's first electric double deck bus, City Hall, London, UK. Photo taken on March 15, 2016. [Photo/IC]
As the world's biggest auto market by the number of cars sold, China's home market provides a solid base for the auto industry. But Chinese brands are looking abroad to grow profits.
In 2012, a record of more than one million units were exported from China to overseas markets, according to the China Automobile Dealers Association.
As of September 2014, there were 852 Chinese automotive companies and branches scattered in Europe, the United States, Central Asia and Africa with a total investment of $9.6 billion, according to the Chinese Ministry of Commerce.