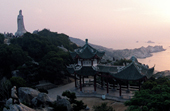 2018-08-21
Putian is a famous historical city in central Fujian province with an area of 15,119 square kilometers. As of 2016, Its population reached 2.89 million.
2018-10-16
Longyan is a city in southwestern Fujian province, bordering Guangdong to the south and Jiangxi to the west. The city had a population of 2.64 million inhabitants as of 2017. Its GDP reached 216.7 billion yuan in 2017. Longyan has a monsoon-influenced humid subtropical climate with short, mild winters, and long, hot and humid summers. It is renowned for the tulu situated in its Yongding county.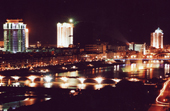 2018-08-21
Ningde is an emerging harbor city in eastern Fujian province with an area of 13,500 square kilometers. As of 2017, its population stands at 2.9 million.

2018-08-27
An island city situated off Fujian province's eastern coast. Pingtan is the closest place on the Chinese mainland to Taiwan.