The universal two-child policy is expected to add more than 30 million people to China's working-age population by 2050, helping the nation to curb a looming labor shortage, said a senior family planning official.
The number was revealed on Monday by Wang Pei'an, deputy director of the National Health and Family Planning Commission, at a news conference held by the State Council Information Office.
China's labor force of people ages 15 to 59, which has continued to dwindle after peaking at 940 million in 2012, is expected to reach 700 million by 2050, thanks to the two-child policy.
"Despite an irreversible downward trend of the size of the working-age population and the entire population, the new two-child policy will help slow the decrease," said Yuan Xin, an expert in population studies at Nankai University.
The government is also discussing other policies, such as delaying the retirement age and improving the quality of human resources, to help sustain a high-efficiency labor force as it grows older.
According to Wang, the universal two-child policy also will help address challenges of the rapidly aging population.
Without the policy, the number of people age 60 and older would be 25.7 percent of the population by 2030. The new policy is expected to lower that number by 2 percent age points.
In view of all this, Yuan said, "China still has a large enough labor force to sustain economic development."
Wang agreed, adding that "the quality of the population, instead of the quantity, matters most in the current situation. We need to improve the quality of the entire population, particularly the work force."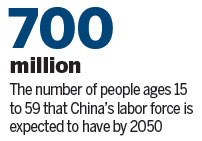 China's total fertility rate (the number of children an average woman gives birth to in her lifetime) is now 1.5 and is expected to peak by 2018, due to the relaxed family planning policy, at a population replacement level of 2 to 2.1, and then gradually decrease, said Yuan.
The population would then be expected to drop, since the fertility rate would be below the replacement level.
According to population scientists, China's population will begin dwindling after the peak of 1.45 billion around 2030.
Wang said that without the two-child policy, the peak year would come about two years earlier, with 1.4 billion people in total.
By 2050, the policy is expected to help add at least 150 million to the nation's population, for a total of 1.38 billion.
shanjuan@chinadaily.com.cn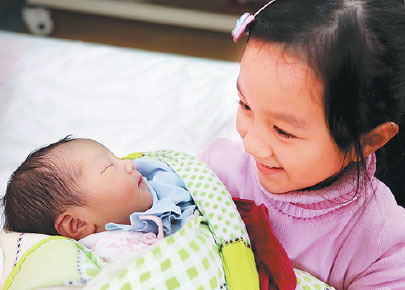 Xue Yaqing, 6, holds her brother on New Year's Day at No 1 Hospital in Xiangyang, Hubei province. The newborn is the second child of a couple fromthe city in Central China. Gong Bo / for China Daily
(China Daily 01/12/2016 page1)