LONDON, Sept. 18 (Xinhua) -- China and Britain need to strengthen and deepen health cooperation to benefit their peoples and help deal with global health challenges, Chinese Vice Premier Liu Yandong said here Thursday.
Liu said this at the UK-China Health Policy Dialogue also attended by British Health Secretary Jeremy Hunt and Director-General of the World Health Organization (WHO) Margaret Chan at the Royal College of Surgeons in London.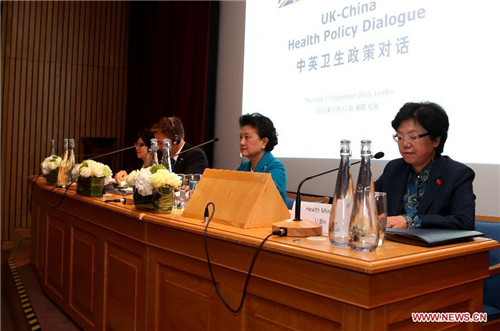 Health cooperation between China and Britain has maintained a good momentum since the two sides established diplomatic ties more than 40 years ago, Liu said.
Both countries have carried out effective cooperation in a wide range of fields, including poverty reduction, major health policy research, medical and health system reform and the prevention and control of major infectious diseases, she said.
Bilateral health cooperation has been further expanded and deepened since the China-Britain high-level cultural exchange mechanism was launched three years ago.
Britain has advanced National Health Service, while China is deeply reforming the medical and health systems to build a healthy country. Enhancing bilateral health cooperation not only will improve the two peoples' health, but also has global significance, Liu added.
She hopes the two sides will further improve health cooperation and create new highlights in people-to-people exchanges.
China and Britain need to strengthen and deepen cooperation in terms of policy making and talent training, and push forward the innovation and practice of hierarchical medical treatment to help contribute to the sustainable development of global health.
Liu pointed out that China and Britain also need to make joint efforts to reinforce medicine science and technology to boost economic and social development.
She said medical research institutions and enterprises should join hands to intensify scientific researches, expand their knowledge and innovation, and upgrade industry, to provide technologies for medical treatment service, diseases prevention and control.
China and Britain should promote cooperation in public health security to meet new challenges of global health issues. As permanent members of the United Nations Security Council, both countries should carry on their pragmatic cooperation, coordinate and formulate strategies to cope with health emergencies.
The two countries also need to enhance the leadership, coordination and execution of WHO in dealing with global public security, and improve the well-being and health of all human beings, she said.
Britain and China have made a lot of concrete achievements in the field of health cooperation, said Hunt, adding that, with the advanced and sophisticated medical service system, Britain is willing to share its experience, enhance cooperation, and confront global health security challenges with China.
Both countries have their own advantages in the field of medical health and play leading roles in coping with global public health security challenges, said Chan.
She said WHO is willing to strengthen cooperation with the two countries in efforts to cope with global public health security challenges.