Vice-Premier Wang Qishan visits Zhongguancun
By Li Yang (chinadaily.com.cn)
Updated: 2012-03-31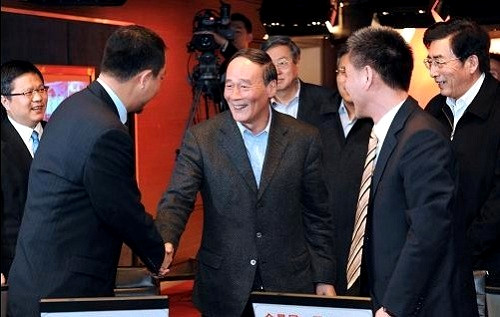 Wang Qishan, member of the Political Bureau of the CPC Central Committee and Chinese Vice-Premier of the State Council, visited the Zhongguancun Science Park in Beijing on March 27
Wang Qishan, member of the Political Bureau of the CPC Central Committee and Chinese Vice-Premier of the State Council, visited the Zhongguancun Science Park in Beijing on March 27 to inspect the stock transfer pilot work on non-listed small and medium-sized Zhongguancun enterprises, Xinhua News Agency reported.
Wang emphasized the over-the-counter (OTC) market in constituting a multi-level capital market in the nation, while experiences gained from the pilot project in Zhongguancun can set the stage for building a national OTC market.
He said the market must accelerate the financial restructuring and systematic innovations and to increase direct financing and optimize the financial structure to meet market demand for diversified investments and financing to serve the real economy.
Improvements will be made with market regulations, market access and financial withdrawal systems along with information disclosure.
The domestic capital market has made tremendous achievements in the last 20 years, especially with the Growth Enterprise Market, stock index futures and margin requirements that were introduced.
However, Wang said the domestic capital market is still in its initial phase with an extensive development mode, an irrational supply structure, lack of innovations and out-of-date financial markets.
The nation is undergoing an accelerated industrialization and urbanization that is creating opportunities for further development of the capital market.
To transform the economic mode, optimize its financial structures remains top priorities for market allocation, Wang said.
Wang discussed the significance of systematic and regional financial risk control and the relationship between government and the markets, innovations and supervision.
Edited by Chen Zhilin and Tom McGregor
| | | |
| --- | --- | --- |
| | | Zhang Hui, Board Chairman and Chief Executive Officer of Beijing Innofidei. |
| | | |
| --- | --- | --- |
| | | Yu Zhenhua, Board Chairman of Beijing Prudent Energy Inc. |
| | | |
| --- | --- | --- |
| | | Deng Zhonghan, Board Chairman of Vimicro. |