Zhang Hui
(chinadaily.com.cn)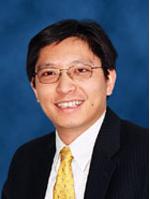 Zhang Hui, Board Chairman and Chief Executive Officer of Beijing Innofidei
Zhang Hui, Board Chairman and Chief Executive Officer of Beijing Innofidei
Zhang Hui graduated from the University of California (UC), Berkeley, USA, in 1999, receiving a doctorate in electrical engineering. He is the current Secretary General of the Mobile Multimedia Technology Alliance (MMTA). From late 1999 to early 2006, he was the co-founder, director and vice-executive president of the former Beijing Vimicro (the first Chinese chip-designing company listed on Nasdaq).
During his period in the United States, Dr. Zhang focused on the pioneering research of low-power reconfigurable CPU architecture technology. He worked at Lucent Bell Laboratories (Bell Lab), responsible for the development of the 32-bit CPU and DSP core-based ultra-low power reconfigurable CPU architecture, which is used in data processing chips for the next-generation mobile communications.
Dr. Zhang won the "Technological Invention Award of the Information Industry" in 2004. In the same year, he was awarded the first prize of the "Beijing Municipal Science and Technology Prize", granted by the Beijing Municipal Government. In 2005, he won "the first prize of the National Science and Technology Progress Award" granted by the State Council. He was named "Distinguished Alumni" of UC, Berkeley, and the "Zhongguancun Outstanding Entrepreneur".
In 2006, Zhang Hui set up Innofidei. Later in 2008, it became the top ten brands of new media independent innovation and the top ten new mobile phone media. Zhang Hui was selected as one of the influential innovative figures of 2008 new media.
| | | |
| --- | --- | --- |
| | | Niu Wenwen is the chief editor, president and publisher of Entrepreneur magazine. |
| | | |
| --- | --- | --- |
| | | Secretary general of the Brand China Industry Union |
| | | |
| --- | --- | --- |
| | | Director & General Manager of Northern Light Venture Capital |