Deng Zhonghan
(chinadaily.com.cn)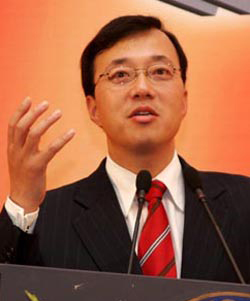 Deng Zhonghan, Board Chairman of Vimicro
Deng Zhonghan, Board Chairman of Vimicro
Between 1987 and 1992, Deng Zhonghan studied at the University of Science and Technology of China, majoring in Earth and Space Science. In 1990 and 1991 he published three articles in the International Institute for Applied Nuclear Physics and the Chinese Science Bulletin respectively.
Deng studied at the University of California, Berkeley, USA, from 1992 to 1997. He received a doctoral degree in Electrical Engineering, a master's degree in Economic Management and another master's degree in Physics. He became the first scholar who held degrees ranging from science to engineering to business disciplines since the foundation of the university 130 years ago.
In 1997, Deng joined the IBM Corporation as a senior researcher, responsible for the ultra-large-scale CMOS integrated circuit design. He has published over 25 academic papers and applied for a number of inventions patents at home and abroad and has received the "IBM Invention Award".
He worked for Sun Microsystem in Silicon Valley, USA, involved in the development of the first generation CPU, the UltraSPARC I, which has the world's fastest computing speed. Then, he served in the US IBM, doing research for a single-magnon Peta-Flop ultra-large-scale quantum computer. After that, he created the semiconductor company Pixim, serving as the first broad chairman of the company. He then led the development of high-end digital imaging semiconductor sensors for cutting-edge applications like monitoring, satellite and outer space exploration.
In October 1999, Deng Zhonghan returned to China and co-founded "Vimicro" with the Ministry of Information Industry in Beijing's Zhongguancun Science Park, serving as the Board Chairman. He then successfully developed the "Starlight Chinese Chip", which was the first to enter the international market and occupied more than 60 percent market share in computer image input devices.
Deng Zhonghan was known as the "Father of Chinese Chip" in the information technology industry. At the same time, Vimicro was listed on Nasdaq. With core technology and independent intellectual property rights of China's electronic information industry, this is also the first IT enterprise that appeared in the US market.
Edited by Chen Zhilin and Rakhee M
| | | |
| --- | --- | --- |
| | | Niu Wenwen is the chief editor, president and publisher of Entrepreneur magazine. |
| | | |
| --- | --- | --- |
| | | Secretary general of the Brand China Industry Union |
| | | |
| --- | --- | --- |
| | | Director & General Manager of Northern Light Venture Capital |