Li Yanhong
(chinadaily.com.cn)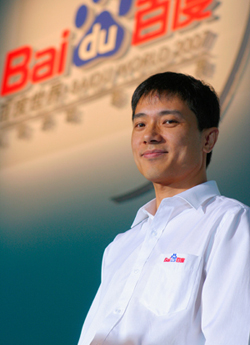 Before founding Baidu, Li Yanhong had been in the rank of topnotch search engine engineers in the world.
Li Yanhong, founder, board chairman and CEO of Baidu, is fully responsible for the strategic planning and operation management of the company.
Before founding Baidu, Li Yanhong had been a top-ranked search engine engineer in the world. His "Hperlinks Analysis" technical patent is one of the fundamental inventions that set the development trend and direction of modern search engines.
Li Yanhong has won awards including the "CCTV China Economic Figure of 2005" and one of the "30 Prominent People in the 30 Years' Reform and Opening Up". He was also selected as the "Best Business Leader" and "Most Influential Business Leader in China" by American Business Weekly and Fortune. In 2011, he ranked 95th in the Forbes Global List with an assets worth of $9.4 billion, becoming the richest man in the Chinese mainland.
Li Yanhong was born in Yangquan, Shanxi province, in 1968.
Li Yanhong graduated from Peking University in 1991, majoring in information management. He later completed a postgraduate course for computer science with a Master's Degree at the University of Buffalo, the State University of New York.
In the early stages of the development of search engines, Li Yanhong, as one of the earliest researchers in the world, created ESP technology and successfully applied it to the search engine of INFOSEEK/GO.COM. The image search engine from GO.COM is one of his technical innovations with a great application value.   
At the end of 1999, bearing a dream of "changing people's life with science and technology", Li Yanhong returned to China and founded Baidu. After years of effort, Baidu has become the most popular Chinese website in China, the largest Chinese search engine and the largest Chinese website.
In August 2005, Baidu was listed in NASDAQ, becoming one of the listed companies most attractive in the global capital market.
Under the leadership of Li Yanhong, Baidu established one of the most impressive search engine technical teams in the world. Its management team, product design team, development team and maintenance team are also among the best in China. Baidu brought a new possibility to the nation's search engine operating pattern and enabled more companies to share Internet achievements.
| | | |
| --- | --- | --- |
| | | Founder, board chairman and CEO of Baidu |
| | | |
| --- | --- | --- |
| | | President of Huaqi Information Group |