Liu Chuanzhi
(www.wikipedia.org)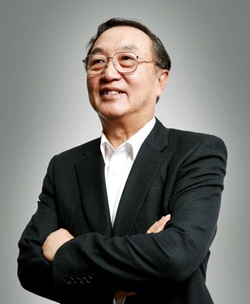 Liu Chuanzhi is the founder of Lenovo, the second largest computer maker in the world, and remains the paramount leader of the firm. (Photo from the Internet)
Liu Chuanzhi
Liu Chuanzhi is the founder of Lenovo, the second largest computer maker in the world, and remains the paramount leader of the firm.
In the 1980s, with market reforms, the Chinese government commissioned Liu to distribute foreign-made computers. Liu founded Lenovo (whose English name was originally Legend) in 1984 with 200,000 yuan ($31,460) and a group of ten other engineers in Beijing. Their first significant transaction- an attempt to import televisions- failed. The group rebuilt itself within a year of hard work, conducting quality checks on computers for new buyers. Lenovo soon invested money in developing a circuit board that would allow IBM PCs to process Chinese characters. This product was Lenovo's first major success. In 1990 Lenovo started to assemble PCs under its original brand name, Legend.
Liu claims Hewlett-Packard as a key source of inspiration for Lenovo. In an interview with The Economist he said, "Our earliest and best teacher was Hewlett-Packard." For more than ten years Lenovo served as Hewlett-Packard's distributor in China. Speaking in reference to Lenovo's later acquisition of IBM's personal computer unit, Liu said, "I remember the first time I took part in a meeting of IBM agents. I was wearing an old business suit of my father's and I sat in the back row. Even in my dreams, I never imagined that one day we could buy the IBM PC business. It was unthinkable. Impossible."
Business ethics were a key challenge for Liu in establishing and expanding Lenovo. Liu says that at first he behaved "like a kind of dictator" and spent lots of time yelling. He sent five corrupt executives to jail. Being late for a meeting could be punished by having to stand in silence before the group, a punishment that Liu accepted three times himself. Lenovo's culture gradually changed and Liu was able to relax his authoritarian style. Lenovo became an employer of choice for Chinese engineers and managers who were foreign educated.
Education and early career He attended the People's Liberation Army Institute of Telecommunication Engineering, now Xidian University from 1961 to 1966. After he graduated, he became a researcher with the Chinese Academy of Sciences until the Cultural Revolution.
Liu was labeled an intellectual during the Cultural Revolution. In 1966 he told his classmates that the revolution was a terrible idea and ended up spending 1968 to 1970 Liu as a laborer on a state-owned rice farm. Liu return to the Chinese Academy of Sciences in 1970 as an engineer-administrator until he co-founded Legend in 1984.
| | | |
| --- | --- | --- |
| | | Founder, board chairman and CEO of Baidu |
| | | |
| --- | --- | --- |
| | | President of Huaqi Information Group |